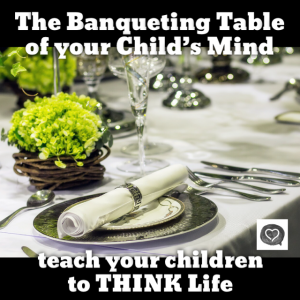 How many of you would ever willingly invite an intruder into your home? In my previous blog, I wrote about speaking life to our children. This week I would like to help you learn how to teach your children to think life.
When we took Growing Kid's God's Way years ago, Gary and Anne Marie shared about the moral warehouse.  We learned that the moral warehouse is the place in your child's heart where moral knowledge is deposited, to be called upon when your child faces an ethical situation.  The concept of the banqueting table of your child's mind is a very similar idea, but is focused specifically on a child's thought life. Picture your child's mind like a banqueting table which is set for guests to attend a dinner party. Each guest has a place to sit. Who are these guests seated at the banqueting table? Well, that has a lot to do with what we as parents have placed there, other influential adults at church or school have placed there, and even what their friends have placed there. Your child needs to be taught that not every thought that passes through his mind is one he needs to invite to stay.  If a thought comes into his mind and it is a thought God would not think toward him, then he knows he needs to ask that guest to leave the banqueting table of his mind and replace it with a new guest of a thought God would think toward him.
What thoughts does God think toward us? We just need to go to His Word to discover that.  For I know the thoughts that I think toward you, says the LORD, thoughts of peace and not of evil, to give you a future and a hope.  Jeremiah 29:11 (NKJV)
I started off this blog asking if you would ever willingly invite an intruder into your home, yet on a daily basis we "entertain" thoughts of death, depression, anger, and/or jealousy.  2 Corinthians 10:5 tells us we are to take captive every thought to the obedience of Christ that tries to exalt itself against the knowledge of God.  Teach your children that when an intruding thought comes to them – one that does not bring peace, a future, and a hope – to take it captive and kick that guest out of the banqueting table of their mind. Tell them to replace it with a thought that God would think toward them: thoughts of love, joy, peace, patience, kindness, goodness, gentleness, faithfulness and self-control. Thoughts of LIFE!!! As parents we can set an example by speaking life to our children so they recognize the very thoughts God thinks toward them. When negative or other 'death' thoughts come along, they will recognize the intruder and begin to replace that guest with a thought God would think toward them. Thoughts of Peace, A Future and A Hope are the guests you want seated at the banqueting table of your mind and your child's mind.
Cynthia Schrock was born in Ohio but grew up on the mission field with her parents in Quito, Ecuador. She married her wonderful husband Eric in 1990. They have two beautiful children: Ashley is 24 and Matthew is 19. In 2016 Cynthia completed a 13 year long journey of homeschooling. Eric and Cynthia have been involved in marriage and parenting ministry for 22 years. Cynthia is a Contact Mom, helping moms with solutions in their daily parenting struggles.  She has also authored a book on celebrating others called The Ultimate Gift of a Birthday.