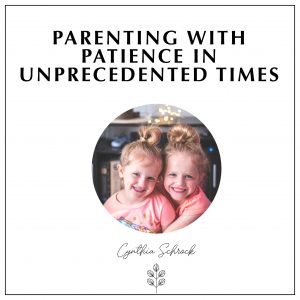 "Restlessness and impatience change nothing
except our peace and joy.
Peace does not dwell in outward things,
but in the heart prepared to wait trustfully
and quietly on Him who has all things safely in His hands."
                                                                                                            ~ Elisabeth Elliot
2020 has been a year of unprecedented times. We have all had to navigate situations we never saw coming. As a parent during these uncertain days, does your patience wear thin? Our regular day-to-day activities when things were "normal" were often enough to cause us to lose our patience with our children – throw in a pandemic and anxiety can increase exponentially.  And where anxiety reigns, patience cannot exist.
So, how do we parent with patience in these unprecedented times?
Take a breath: Our children may notice if we are anxious, but they can also sense our peace as we demonstrate patience with them.  If you feel the pressures of life overtaking you, take a step back, sit down, and take 3-5 minutes to just breathe.  This will help patience enter back in where anxiety was trying to take hold. Pausing for a few minutes will help your children too. When you see them becoming anxious about something, they may just need a quick perspective adjustment and taking a breath will help accomplish that. This is not a disciplinary action. You are just stepping back, taking a deep breath to clear your mind, regaining some patience, and hopefully getting a better understanding of whatever situation you are dealing with.
In England they have afternoon tea every day. We had the opportunity to homeschool our children alongside a family with English roots. Every Friday when we homeschooled together, this mom brought tea and made some for the students. It was the students' "take a breath moment" and it always allowed our afternoons to go so much smoother. So whether you decide to just take a breath or actually set aside time daily for a cup of tea or whatever, a moment of peace will bring the patience needed to continue on to the next task at hand.
Answer their questions: It takes a lot of patience on our parts as parents to tackle difficult topics with our children rather than ignoring their questions.  Our children have a lot of questions on their hearts and minds because their world changed a lot over this last year. When they have a question, patiently take the time to answer in an age- appropriate manner. For example, if the question is "What is Covid-19?" you would answer a toddler, "It is something that makes people sick." For your elementary student it could be, "It is a virus that people get which makes them sick and it can affect their lungs, making breathing difficult." Middle and high school aged children can research on the internet with you and engage in an open conversation until a level of understanding is reached. Being patient and not shying away from tough questions in these unprecedented times will bring a level of peace to your children so that they know they can trust you with anything.
Pray: In Isaiah 40:31 we read, "They that wait upon the Lord shall renew their strength….." Our children can grow in faith when we teach them to "wait" or be patient for the Lord. We might not understand everything that is happening, but we know the One who does.  Remember the quote above says "….to wait trustfully and quietly on Him who has all things safely in His hands." We can model patience in front of our children by taking our concerns to God and teaching our children to do the same through prayer. Make the time daily to pray with and for your children, even when it seems inconvenient. It is in those inconvenient moments that our children learn patience, when you stop and take the time to pray about these unprecedented times we are living in. You can even teach them to pray for others who are sick, anxious, or struggling financially. There is no greater patience trainer then to teach our children to stop and ask "the One who has all things safely in His hands" to help them or someone else who is dealing with a problem.
So the next time you are needing patience to parent in unprecedented times, think about these three things:
1.Take a breath
2.Take time to answer the tough question
3. Stop to pray and ask for help from the One who has all things safely in His hands
Cynthia Schrock was born in Ohio but grew up on the mission field with her parents in Quito, Ecuador. She married her wonderful husband Eric in 1990. They have two adult children: Ashley and Matthew. In 2016 Cynthia completed a 13 year long journey of homeschooling. Eric and Cynthia have been involved in marriage and parenting ministry over 20 years. Cynthia is a Contact Mom, helping moms with solutions in their daily parenting struggles.  She has also authored a book on celebrating others called The Ultimate Gift of a Birthday.