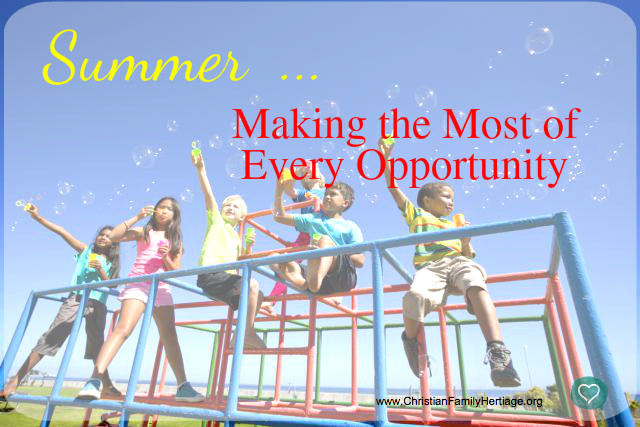 Summer has officially set in here at our house.  The kids are counting on long summer days – swimming, camping, working in the garden, fires on the patio – all the things that make summer so special.  I can feel it too, that excitement and anticipation for a slower pace.  Time to sip my coffee a little longer in the mornings without having the mad scramble to pack lunches, find book bags, and get out the door for school.  Family time together on the patio at night without the looming 8:00 bedtime rushing us back indoors.  Ahh, the joys of summer!
Yet, even while I dream about slowing down and savoring this season, I've also been finding myself making mental lists of all the things I want to squeeze into summertime.  Many good things, endless good things, that could fill our days.  Summer softball.  Summer reading programs at our local library.  4H projects.  The garden.  Zoo trips.  Cookouts.  The list could go on and on.  And while we're thinking about it, we should probably add to that list math facts, states and capitals, creative writing, and reading fluency.  We can always brush up on those things.  As all these ideas have been swirling in my head, I happened to hear a Scripture that seemed to be a perfect theme for our summer.  It comes from Ephesians 5:15 which says, "Be very careful, then, how you live – not as unwise but as wise, making the most of every opportunity."  Perfect!  What a great theme verse to live by as we pack all that we can into our summer days – "making the most of every opportunity."  Somehow in my mind those holy words equated to pack it all in, get it all down, and get ahead in the game of life.  As I thought about "making the most of every opportunity," I envisioned our family effectively using every minute of every day.  I began thinking up a summer routine that could cover all the bases and squeeze in every task in a way that maximizes our efficiency.  We'll make the most of every opportunity and we'll get ahead.
Then I read the verse in context.
It turns out that this verse comes from a section of Paul's letter to the church in Ephesus where Paul is urging the Ephesians to live differently than those around them.  My translation entitles this section "Living as Children of the Light."  Paul urges the Ephesians to "no longer live as the Gentiles do, in the futility of their thinking" (4:17).  He goes on to describe the sinful mindsets and behaviors being demonstrated in the culture around them.  At the beginning of Chapter 5, Paul encourages the church with these words, "Be imitators of God, therefore, as dearly loved children and live a life of love, just as Christ loved us and gave himself up for us as a fragrant offering and sacrifice to God" (5:1).  Paul wanted the Ephesians to stop imitating the world around them and start imitating their Heavenly Father.  It's with that groundwork laid that Paul encourages them to "be very careful, then, how you live – not as unwise but as wise – making the most of every opportunity" (5:15).
What a game changer for me and my summer planning!  I was immediately aware of the ways I had allowed the culture around me to influence me.  "In the futility of my thinking," I had distorted Paul's charge to "make the most of every opportunity."  I received those words as a free ticket to focus on myself, my family, and my plans.  The culture around us pushes us to do the same.   Even unintentionally, we can buy into the mindset of our culture that says be busy, sign your kids up for every activity, focus on yourself, and get ahead.  Could it be that "making the most of every opportunity" looks starkly different than "being busy?"
Ephesians encourages us, dearly loved children, to imitate our Heavenly Father.  I'm aware that until my kids have an intimate relationship with their Heavenly Father, they will likely imitate me.  What kind of example will I set for them this summer?  Will I keep the pace of the culture around me, aimlessly signing up and saying "yes" to everything that comes our way?  Or, will I seek the Father, asking Him where we can join in what He's doing around us?  Let's be families that truly "make the most of every opportunity" this summer.  Who's with me?