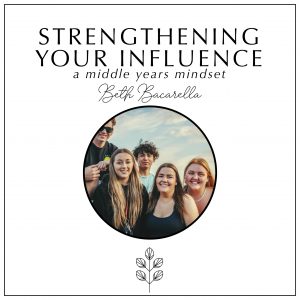 God is so smart.  He always provides what we need, when we need it.  As we approached the middle years with our children, we knew we would need more tools to add to our parenting toolbox but we didn't know exactly how our parenting practices would need to be refined.
One example of this refining process was learning how to think through the transition from leading with our authority to leading with our influence.  We had lots of questions about the middle years and God proved Himself faithful in providing us encouragement and instruction just when we needed it.
In 2009, we attended a Growing Families International (GFI) conference. During a "lunch and learn" breakout session, the couple teaching asked if we would like to hear their family's perspective on sleepovers and birthday parties.  We enthusiastically agreed. Their family decided that birthdays would be celebrated at home as a family without "inviting the neighborhood".  They also decided that play dates should end before bedtime and sleeping should be done at home.  They had a number of reasons for coming to these decisions including their children's safety when not under their supervision, the financial strain of numerous birthday parties, and the time involved.
God's faithfulness in providing us with this couple's perspective allowed us to decide as a couple what boundaries and guidelines we wanted to set in our family.  We were encouraged to think through all the various aspects of a topic to make sure our reasoning was sound and not just a knee-jerk reaction to a problem that suddenly appeared.  We decided we would limit outside socialization for our elementary and preschool children and focus instead on building family identity.
What I didn't know in 2009 was that we would open our first fishing bait and tackle store at the end of 2011, and that I would have some medical issues shortly thereafter when Joshua was 9 and Jordan was only 5.  Keeping our children close to home, close to our business, and not "shipped off" here and there was so important.
"The fifteen hundred days of preadolescence are all the time you have to prepare your kids for the nearly thirty-seven hundred days of adolescence.  Let's make the most of every minute." – Robert Bucknam, MD, from the "PreTeen Wise" foreword.
I wanted to make the most of every minute.  John was extremely busy with his full-time job and with the new store, and whatever time he did have available needed to be spent with me and the kids.  Building our family identity happened in large part because we were always together.  If our kids weren't at school or at a church activity, they were most likely at home.  Yes, Joshua spent time with his best friend and Jordan spent time with my parents, but these were both like-minded influences.
If the terms "building family identity" and "like-minded influences" aren't familiar to you, I would highly recommend that you take the Middle Years class (ages 8 to 12).  If a class isn't available right now, Gary Ezzo and Robert Bucknam, MD have a whole series of "On Becoming" books (think "On Becoming Babywise") and "PreTeen Wise" is the book you're looking for.
Leading your children from your authority is critical when your children are young and you're establishing first-time obedience.  But it can work against you when you get to the middle years.  Moving from "leading from your authority" to "leading from your influence" could be the hardest task you'll ever face in your parenting, but it pays great dividends.  You've spent years "filling your child's moral warehouse", and now it's time to see what's really in there.
Think about this.  God doesn't ask His children questions because He is hoping to discover the answers from us.  God asks us questions to pull out of us what is inside, clarifying for us what we really believe.  Just as God plants seeds of wisdom into us as we grow in maturity with Him, we as parents also plant seeds of wisdom into our children ("filling their moral warehouse").  It is our job to ask questions of our children, pulling out of them what is inside and clarifying for them what they really believe.  If we've done our job well (with the Lord's help, of course, as none of us are perfect parents), those seeds of wisdom grow over time and our children will be able to verbalize what they've internalized, further solidifying their beliefs for themselves.
We don't want our children to act a certain way because "Mom said so".  We want their behavior to reflect what they truly believe inside.  And the only way to do that is to pull that back out of them time and time again, just as God does with us.
Now that our kids are 13 and 17, they fully participate in family discussions and we consider their input carefully.  We have made conscious decisions together to allow a sleepover or a birthday party here and there, allowing our kids to give their reasons, cite potential issues, and explain what they will and won't participate in.  It has put the responsibility for their behavior in their court, not because "my parents said I can't", but because they've thought through the consequences of their actions ahead of time.  Owning their own behavior has made all the difference.
If you want to have a middle years mindset, you need to start early by taking an age-appropriate parenting class and seeking advice from those who've gone before you.  Focus on thinking through the moral reasons why a family decision is made.  This will help strengthen your influence over your children so that they will want to follow your lead.
Beth Bacarella and her husband, John, have 2 children, Joshua (17) and Jordan Rose (13) and own Sportsmen's Direct bait and tackle on Lake St Clair in southeast Michigan. They have been married since 1994 and started teaching parenting classes in 2004.