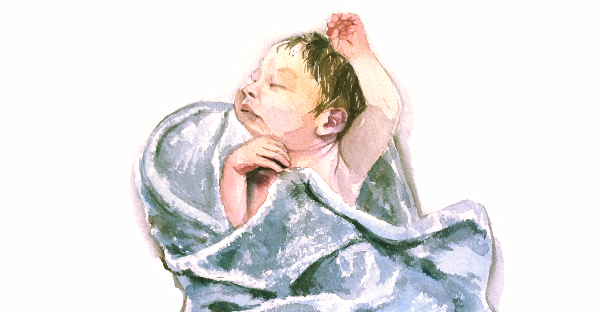 Keenan, Christian, and you other gentlemen that have newly arrived bundles or are now awaiting this impending profound change in life – Welcome.
Since you're going to be a new father for the first time only one time – write a letter.
You are at the pinnacle of your maturity so far. You have never been so wise, more forward-thinking, more capable…and never so much on the precipice of change. Now's the time to write a letter that you absolutely will come back to again and again.  Because the recipient will bring it to you for clarification and ultimately honor. It should go something like this:
"Dearest of my heart,
You came into the world today as a blessing to me and your mom. Your mom worked so hard to bring you here all healthy and pink. Now it's my turn to take you further.  This is my love letter to you that I hope will bring you guidance in life. I waited till your 13th birthday to give it to you, holding it in secret till you and I could talk about it. Though this letter may be secreted away, my love for you won't be. Nor are my hopes for an incredible life of wonder, adventure, family connection, and growth.  That's what I want to talk about now.
I want your life to be wonder-filled and wonderful. Curiosity reveals wonder. If we are curious we can learn about God's creation with eagerness. This universe is filled with the most amazing creatures and processes. You yourself are example to the most incredible thing I can imagine – life. That you could come from the love of your mom and me is truly astounding and wonderful. God has Blessed us with you and this world. Let's you and me go forward to learn about all of it.
Another quality I want to have with you is one of adventure. Adventure requires an attitude of positive expectation, an open-minded way of looking at the world. When confronted with the chance to play the game, volunteer to help, raise your hand to try, or move into an uncomfortable situation, adventure-mindedness is the best perspective. Not the easiest, but the best. Your mom and I want to have that as a family trait where our family goes out and explores, and volunteers, and participates in the fullness of life. And we want to do that with you.
Family togetherness is very important to your mom and me. You and your future siblings are a priority. When you call me, I will always take the call – no matter what. I will never confuse busy and important. I also vow to love your mom with all my heart as I do today. She was so strong, and brave, and beautiful bringing you here today. I say this because I know how important family is to you. I will make sure that I hold the family above all other demands on my time, attention, energies, and ego. We are the Marrs and together we can conquer anything.
Lastly for this letter (because there is so much more I could write about), I want to grow with you. You may not know this, but I am very young. I don't feel equipped to be your dad, but God has decided otherwise. So you and I will be growing up together. As your mom and I will manage your physical growth, you and God will be encouraging our spiritual growth. My goal is to give you the most emotionally, spiritually, financially, psychologically secure start that I am capable. And I vow to grow to my maximum capability so that I can demonstrate to you and your siblings I am willing to lead. Because, as your father, I must lead.
And so, as we celebrate your 13th birthday, I wish to take you back to this day when I signed and dated this love letter. We will have so many more days together, but none shall be more special than this day…when you came into my life.
I love you,
Dad"
I choked up pretty good when I wrote this because this declaration is at the core of everything you are in the act of becoming. I hope you take my advice and write down everything, your hopes, your fears, your vision of the future, and set it aside to give to your child on their 13th birthday. Now, don't write it to a 13 year old. Make sure it's the best letter you can devise. You want the letter to grow with him/her. It won't be fully understood till he/she is sitting at some future day like you are here today – at the juncture between childhood and adulthood.
To your continued success,
Dave
P.S. For you Dads that already have older kids, it's not too late to write the letter. And write to all your kids. I made a huge mistake, enormous regret, in that I only wrote to my boys and not to my daughter. Don't mess up like me. And for you younger men whose procreation may seem a long way off, your time will come soon enough. Think on it anyway.