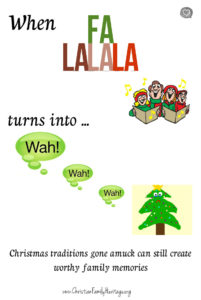 One of our most enduring family traditions is closing Christmas Eve with candlelight worship. When it's time for bed, we turn off all the lights in the house except for the Christmas tree. Then we light a single white candle and place it in the center of the family room to symbolize Jesus, Light to the World. Each family member receives a Bible verse to read aloud. (Click here for a copy of my list.) Seated in a circle, each excited face illuminated by flickering light, we read the Scriptures round and round.
My husband Richard and I then take each child to bed individually by the light of the Christ candle. Those waiting for their turn sing Christmas carols. As each child is tucked in, Rich and I lean over the bed and entreat, "'You are the light of the world. Let your light so shine before men that they may see your good works and glorify your Father in heaven.' Merry Christmas!"
What a beautiful, worshipful way to end the evening, right?  Not always!  There is usually something that goes wrong. Someone gets burned with hot wax. Someone (or several someones) have a meltdown. There was the year that we had everyone tucked into bed, and Richard and I had just reached the family room and exchanged a smile, when we heard a shout from the back of the house, "We forgot to set out Santa's cookies!" Everyone came tumbling, helter-skelter into the kitchen. So much for Christmas peace!
Another family tradition is giving each child a family t-shirt for Christmas Eve. We usually don them with plaid flannel pajama bottoms for our Christmas Eve photo shoot.
One year I was especially proud and excited. I had designed our family crest in watercolor and Rich had printed my painting on long-sleeved white tees. The children had hardly disappeared into their rooms to change into their Christmas pj's when we began to hear sobs from the back of the house. When we went to see what in the world was wrong, the whole gang was crying because the t-shirts were so ugly! They were too big. Or they were too small. Some refused to wear them at all. We tried in vain to vanquish ungrateful attitudes. In the end Rich gave up in exasperation and sent everyone to bed with no further festivities.
We were so upset and hurt when our carefully planned Christmas fun was ruined, but we laugh heartily about these events now. With time, fleeting family frustrations conquered together are the stories that are retold the most.
So no matter what goes right or wrong for your family this Christmas, deck those halls and cherish the memories being made!