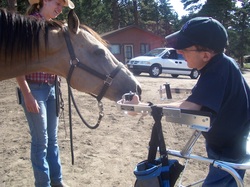 02/03/2015
May 27 entryThe following is an journal entry I wrote when Bev, Brad, and I went on a little mountain retreat after one of Brad's difficult times;"We had a wonderful day yesterday. Brad was much improved. I have found that it is a must to try again rather than write off an attempt at something when things go badly. We have soaked in some of the mountain beauty around us. Our problems are not gone but the possibilities once again include joy."I had forgotten about this event where we went on a get away to try and relax after a difficult few months that included a couple of month long hospital stays. The first day went very badly and it looked like our son would not be able to handle it.The picture on this blog is the day we wished we could get Brad get up on the horse with me, we tried, but there was no way. And so went all the rest of our attempts.
I felt like throwing in the towel and writing it off as a wasted attempt at doing something fun for a change. Glad I didn't. By not giving up and instead starting fresh the second day, we all had a great experience.  Of course we were always limited, but God gave a fresh perspective and a little improvement in Bradley.
We often quote Lamintations 3:22-23 "The Lord's lovingkindnesses indeed never cease, For His compassions never fail.  They are new every morning; Great is Your faithfulness." It is a good passage to keep in mind as we work with special needs situations. We often have set backs. If we can avoid letting them defeat us, make us bitter, and hopeless there is the promise of God that we will see his loving kindnesses. Indeed we will.
Author Note:
Mike Linder
Real entries from my personal journals of days and years gone by.  Some of the years were difficult years.  I'm glad I kept a record of my musings during those times.After the entry is a more current thought related to the journal entry.Thanks for sharing these times with me. Maybe some of my struggles and victories might be of some help in your current situation.