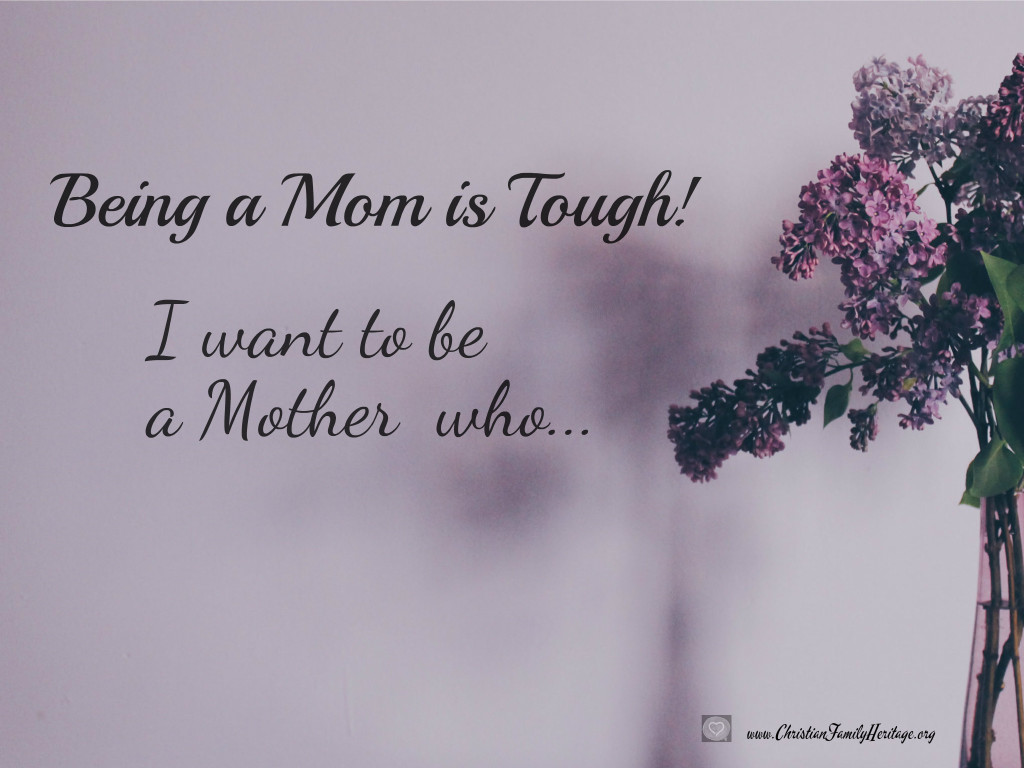 I love being a mom!  Sometimes, however, this calling can be really hard.  When the children are young, being a mom is exhausting because we are needed for everything.  Then when they are teens….the difficulties become the emotional and mental demands of the relationship which are often even more difficult than the physical demands had been when they were younger.  But, for me, perhaps the toughest thing about being a mom is how it challenges me spiritually.  I think God uses our children to help mold us and refine us.  Often times I don't like what I see in my own life or hear in my own voice, and I know that I need to work on these areas before I can train my children.   I want to be a spiritual mother with an eye fixed on heaven…bringing glory to God (making Him bigger) in all that I do with my children.  The following list is my prayer for my own life.
NURTURER:  I want to be a mother who nurtures her children in the admonishment of the Lord. (Psalm 22:27)  To be a mom who teaches her children about God constantly.  From sun up to sun down, every moment is a chance to give God glory!
PRAY-ER:  I want to be a mother who prays unceasingly for her children.  (I Thess. 5:16-18)  A mother who daily prays over her children for protection, wisdom, love, and self-control.
PEACE-CULTIVATOR:  I want to be a mother who releases the aroma of Christ. (2 Corinthians 2:15) The home should be a place where sweet peace is cultivated.
WISDOM-SEEKER:  I want to be a mother who listens intently for God's wisdom and direction for her family. (John 10:27) Such a mother hears God speak to her heart through His Word as she leads her children toward a personal faith.
WATCH-KEEPER:  I want to be a mother who keeps watch over her household. (Proverbs 31:27) To be a mother who keeps a close eye on the spiritual, emotional, and physical needs of her children.
FORGIVER:  I want to be a mother who refuses to harbor bitterness or anger. (Ephesians 4:31) People (even children) will disappoint and cause strife.  So I need to be a mom who is careful to guard her own heart and who gets rid of anything that would build a wall between her and Jesus (and those around her).  Asking for forgiveness is key!
JOY-RADIATOR :  I want to be a mother who radiates the joy of the Lord on her face.  (Proverbs 15:13)  This is a mom who encourages those around her and gives hope to the hurting.  Such an attitude of joy is contagious!
SPEAKER OF LIFE:  I want to be a mother who speaks the truth in love without being sarcastic or rude. (Ephesians 4:15)  This mother is careful about her choice of words so that those around her are encouraged in the Lord.  She speaks words of life and not death.
RENEWER:  I want to be a mother who digs deep within for a spiritual renewal every day. (2 Corinthians 4:16)  To be a mom who feeds herself on God's Word, so that she's ready to share the Good News with those God places in her path – namely her children!
These are the tough things God calls us to.  Thankfully God gives us his Holy Spirit to give us what we need each day as we trust in Him.  Blessings Moms as you seek after Him!
Roxie Ramseyer, CFH Contact Mom