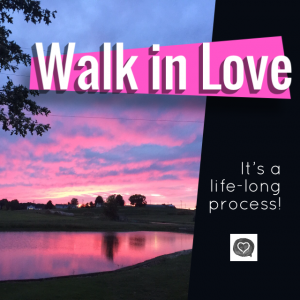 As Christian moms, we need to know how to "walk in love" as we interact with our family and with others that God brings our way. Walking in love is a life long process.
What does it mean to walk in love?
First, we must understand a Biblical definition of love, not the cultural definition of love. We use the word love for many things.  "I love pizza," "I love my cat/dog," and "I love my husband."  We may view love as a warm, nice, fuzzy feeling.  It's magical… until something goes wrong.  But that's not how the Bible defines love.
What does God's Word say about His love?
He gave His own Son to die on the cross.  (John 3:16)
Husbands, love your wives, just as Christ also loved the church and gave Himself up for her.  (Ephesians 5:25)
Greater love has no one than this, that one lay down his life for his friends.  (John 15:13)
He told us to "love one another," even as He has loved us.  (John 13:34)
So the Bible tells us that love is a self-sacrificing, caring commitment that shows itself by seeking the highest good of the one loved.
Here are some practical steps to learning to walk in love:
Spend time daily getting to know God.  We must understand and know what is revealed in His Word. Allow God to speak to you.
Spend time talking with Him through prayer.
Walk in love, just as Christ loved us and gave Himself up for us.  This includes:

Speaking the truth in love — because He is the God of truth.
Being faithful in how we deal with others – because He is a faithful God.
Choosing holiness in how we behave – because He is holy.
Loving – because He is LOVE!
God is the only One who can demonstrate perfect love perfectly.  But we can learn to walk in love as we follow His example.  God's love is:
Costly
He gave His own Son.  We seldom have to go so far as to actually die for others, but we often have to lay aside selfishness, pride, our rights, our time… in order to practice God's love towards others.
Caring
Give all your worries and cares to God, for He cares about you. (I Peter 5:7)
Committed
Jesus was committed to do the will of the Father including going to the cross
Feelings come and go, but commitment is the glue that makes love endure.
Love never fails.  (1 Corinthians 13:8)
Active
Love is not just nice thoughts and feelings.  It is an action.
My little children, let us not love in word or speech but in action and in truth. (1 John 3:18)
Sanctifying
Just as He chose us in Him before the foundation of the world, that we would be holy and blameless before Him in love.  (Ephesians 1:4)
TO WALK IN LOVE IS A LIFELONG PROCESS!
Kathy Loewen has been married to Randy for 36 years.  They have 4 children, 2 daughter-in-loves, and 6 grandchildren. Randy and Kathy have been involved in the GFI ministry for 30+ years.  Kathy loves serving alongside her husband in marriage and in parenting ministries.  She has been serving on the CFH Board for 2 years and has been a Contact Mom for 23 years.  Kathy recently became a Certified Heath Coach.