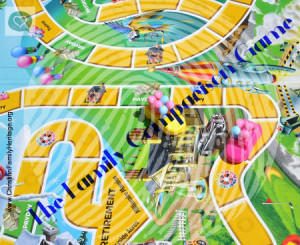 There was a time when I lived the Family Comparison Game. Here's how I played: There was an imaginary line between families who were successful and those who needed some work. My goal was to keep our family bobbing above that line so we were admired and respected. I believed that if my family looked better than other families, I would be happy.
When other families seemed to know more, do more, or look better, I became dissatisfied and restless – sometimes depressed. Then I had to figure out how to boost my family from not-so-good to one-of-the-best. The frustration left me twisted inside.
Once in a while my family seemed better behaved, more accomplished, or rightfully admired. Then I gloried in my parenting skills. To my shame, I judged others and looked down on them.
The truth is that my wins and losses were illusions and my judgments were sin.
My Family Comparison Game has always been rooted in fear and pride.
It breaks my heart to realize that my preoccupation with performance stole my joy and stifled my family. It also clogged my Christian witness because other moms felt that I was too perfect to be approached or felt judged by me.
God's plan is simple:
• "Godliness with contentment is great gain." (1 Tim. 6:6)
• "The Spirit you received does not make you slaves, so that you live in fear . . . " (Rom. 8:15)
• "There is only one Lawgiver and Judge . . . but you—who are you to judge your neighbor?" (Jam. 4: 2)
Sometimes – if I'm not careful – I slip back into a round of the Family Comparison Game. But now that I know how toxic it is, I repent and turn back to freedom and joy.
In "The Family Comparison Game, Part 2," I will share some of the tools I use to live free of comparisons.