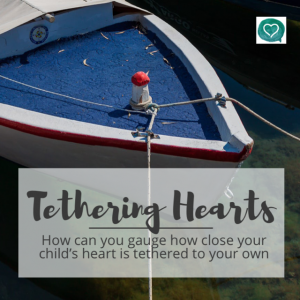 Do you ever wonder if you hold your child's heart?  Or worry that you don't? As parents, one of our biggest desires is to know that our teaching and wisdom is sinking deeply into our children's hearts from the time we first begin to instruct them as toddlers. So how can we gauge how close our children's hearts are tethered to our own? Here are four things to consider:
 How closely is your heart tethered to God's?
Thou wilt keep him in perfect peace, whose mind is stayed on thee: because he trusteth in thee.   Isaiah 26:3
That ye might walk worthy of the Lord unto all pleasing, being fruitful in every good work, and increasing in the knowledge of God; Strengthened with all might, according to his glorious power, unto all patience and longsuffering with joyfulness;    Colossians 1:10–11
You are as close to God as you want to be (James 4:8). And the closer you are to Him, the more knowledge, wisdom, and understanding you will gain for your children. You will also obtain long-suffering, peace, strength, and joy – all of which are fruits that your children will be attracted to. Ask yourself if these are being displayed in your day-to-day interactions with your children during times of conflict and non-conflict.
Are you telling? Are they hearing? Are they believing?
How then shall they call on him in whom they have not believed? and how shall they believe in him of whom they have not heard? and how shall they hear without a preacher?   Romans 10:14
Devotional living is an amazing gift that you can provide for your children. There are many opportunities throughout the day to point them to Jesus – whether through creation, His provisions big and small, or His voice in your own life. Take every opportunity to point them to Jesus.
And ye shall teach them your children, speaking of them when thou sittest in thine house, and when thou walkest by the way, when thou liest down, and when thou risest up.  Deuteronomy 11:19
Are you seeing a desire or a seed of desire to do what's right out of love of virtue, not fear of reproof?
 I delight to do thy will, my God: yea, thy law is within my heart.  Psalms 40:8
This seed will sprout at different times for different kids and can first be gauged by the response in your toddler when you give him an instruction. It takes time, patience, and understanding of where your child is developmentally to reach his heart.
There are three steps to achieving a right heart response.  First, focus on an immediate response.  Start working with your toddler by calling his name and then bringing him to you immediately, then clapping. You can do this exercise with all instructions (sit down, stop, etc. Make it fun!) Once he has mastered this skill of following your instructions immediately, focus your training on gaining a complete response. Help the child follow all the way through on your instructions. Once he can do that on his own, a sustained response is the response that will open the door to a right heart response. When your child follows your instructions for a sustained amount of time and while you're not looking then he is ready or almost ready to be obeying from a right heart. The key in these times of training is to make sure the majority of the training is done in times of non-conflict which touches the heart of a child deeply and will help in securing a closer heart connection.
Prayer
If any of you lack wisdom, let him ask of God, that giveth to all men liberally, and upbraideth not; and it shall be given him.  James 1:5
Be careful for nothing; but in every thing by prayer and supplication with thanksgiving let your requests be made known unto God.  Philippians 4:6
Every day we ought to pray for wisdom for our children. It truly is as easy as asking, "Lord, show me today what this child needs from me." And He promises you that He will show you that wisdom!
In conclusion, when your heart is tethered closely with your Father's, your light will shine, and your children will see it and glorify the Lord.
Let your light so shine before men, that they may see your good works, and glorify your Father which is in heaven.   Matthew 5:16
Stacy Bullock is a wife and stay-at-home mother of three kids. Married to her high school sweetheart, Joshua, she couldn't imagine a more fulfilling life. She enjoys playing the cello, horseback riding, and helping other mothers find fulfillment in making their quiver a happy and heavenly home to sharpen and ready their arrows (children) to be launched into the world to glorify God in following His calling on their lives.