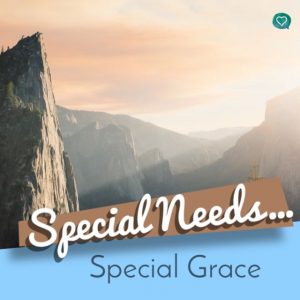 About half way though my fifth pregnancy, my obstetrician began sharing some concerns about our unborn son. His arms and legs measured a little short, his movements were not as vigorous as desired, and there were concerns about the formation of his heart. How relieved we were when we held Samuel in our arms just after birth. He was a beautiful baby with a little round face and a shock of straight black hair. When Samuel went to the newborn nursery, my husband Richard returned home to check on our other four children and bring them back to meet their new brother.
While he was away, a team of doctors filed into my hospital room. They had just come from Samuel's first pediatric check-up. The straight-talking spokesman listed a string of abnormalities and then asked if I had any questions. After listening a little impatiently to my shocked babble, they all filed out again. I don't know when I have felt so scared or alone.
But in the hours, weeks, months, and years that followed, Jesus entered. He guided Richard and me through physical therapy, a hospital stay and long recovery with RSV, speech therapy, learning delays, behavioral issues, social oddities, compulsions (lots of these), kidney failure/dialysis/transplant, and most recently depression.
Today Samuel is twenty-one years old and in relatively good health. Richard and I have graduated him from homeschool and he has a part-time job. We are proud of him—all the more so because the journey for us all has required sacrifice and perseverance. He still struggles, but he has come such a long way.
With the surety of hindsight, I now look back in wonder at the Lord's faithfulness to me. But my heart goes out to parents who are now in the training years of a child with special needs. So, I have collaborated with my dear friend Sarah to send this brief encouragement. Sarah is mother to 13-year-old Noah, who has Down syndrome. (She has four fabulous children in all—her oldest son is married to my middle daughter!) Together we have compiled some essential items for every parent who is nurturing a special needs child, which brings me beautifully to the first point:
Empathetic Friendship—When I am frustrated with parenting Samuel, I always know that I can call Sarah and she will understand without judging my son or me. Her friendship is not just a pleasantry—it's a necessity. Having at least one other person to pray, plan, or even vent to is a lifeline for parents of children with special needs. We need a wise friend who understands from experience, whose long-term love braces us, whose perspective brings practical help, and who speaks truth so gently it feels like an embrace. I am praying as I write this that if you do not currently have this kind of deep friendship, the Lord will highlight those who can bless you while you bless them. It's so important.
Fierce Love—Sarah feels that it takes a fiercer love to nurture a child with special needs, and I agree. That's because these children need more guidance and more protection—for much longer. It's frustrating when the basics must be patiently taught day after day and then retaught. New character and skills take longer to find expression in the life a child with processing delays and compulsions, but be encouraged because growth is Sarah and I live in different states so I don't see her family as often as I would like. But when we can be together, I'm always struck by how much Noah has learned about obedience, honoring others, academics, and much more. When I comment on his maturity, she's often surprised. The day-to-day growth is not obvious to her—but it's definitely there! Perseverance is the operative word here. Parenting for the l-o-n-g term takes courage and strength. My prayer for you is that the Lord will surprise you with a glimpse of the progress He sees and that you will hear His dear "well done!"
Saving Grace—It is true: raising a child with special needs is the harder path of family life. Sarah and I have been disillusioned by testimonials that make raising a child with special needs sound exclusively delightful. We love our sweet, sensitive, and talented special needs children no more or less than the other children in our homes, but we admit that there are days that are more characterized by frustration than edification. When we are twisted by the pressure, the Lord reminds us that He is intimately acquainted with the details of our present cross, and He can be trusted to reveal the next steps that will surely move us to a more bearable situation. I pray that you may see Jesus as your Way, Truth, and Life. He is truly our Savior in every sense of the name.
Transcendent Peace—Personal pain is a common denominator in raising a child with special needs. There are seasons of sickness and surgeries that are heartbreaking. Sarah and I have been deeply wounded when others ostracized our children for their physical appearances or the behaviors associated with their syndromes. We have wept when our children with special needs are skipped over for birthday parties and play dates. When our boys notice and are wounded by these responses, it triples our own pain. Sarah shared this morning that she is meditating on every word and nuance of Phil. 4:6, "Do not be anxious about anything, but in every situation, by prayer and petition, with thanksgiving, present your requests to God.And the peace of God, which transcends all understanding, will guard your hearts and your minds in Christ Jesus." I pray that as you intentionally exchange anxiety and pain for thanksgiving, you will find yourself reveling in the transcending peace and protection of God.
Beautiful Character—Parents of children with special needs have daily opportunities for cultivating character in the lives of their children, but the surprise is the character our children cultivates in us. Sarah says that as God changes her into the likeness of his Son, she sometimes wants to stomp her feet or dig in her heels. But I will tell you that when she walks into the room, strength and dignity enter with her. I know none so wise, patient, or kind. And deep down, I know that I am more empathetic and faith-filled than I could ever have been without Samuel's influence. My God-name for him is "My Blessing." I know that mature character traits come at a price, but as I look back, I find that I wouldn't change anything about my life or take anything for what I have learned. I pray that as you take time to reflect on your personal growth, you will see how lovely are the hard-won graces within.
If you are raising a child with special needs, Sarah and I salute you. Please know that you are not alone. You are making progress in your child's character. Remember that the harder path is also the path which produces perseverance. Never forget that the Lord empathizes with those things that break your heart and will provide wisdom for your next steps. Be assured that the character you are gaining looks beautiful on you and you are glorifying God.  And in all seasons remember that there is special grace for you and your child with special needs.
I want to close with an excerpt from Samuel's Mother's Day letter to me. I know that some who are reading this post have a child who has never expressed a heartfelt thank you; perhaps your child cannot speak at all. If so, let Samuel's words touch your heart deeply because they are as true for you as they are for me. (I have corrected some spelling and grammar to make the thoughts plain and share this with his permission.)
Mom,
Thank you for all the fun years we have had, for taking trips together, having personal one-on-one dates with me, and for personally giving me one of your kidneys. There are so many things/qualities that I love about you. [Best of all] I love how you are faithful to follow the Lord. . .
I truly want to say thank you for all the stuff you have done in my life. From day one, staying with me in the hospital while I was a little boy (RSV hospital stay), through 100's of days of just praying for me and for my life. I truly love how you're my mom, and I thank you for how you still believe I can make it. I love you, Mom.
Susan Ekhoff and her husband Richard are parents to seven adult children and have one grandchild. The Ekhoffs are a key couple for Growing Families International and make their home in Tulsa, Oklahoma.  Susan is an experienced homeschool mom and teaches elementary and junior high writing.  She is the author of the book Prayer That Must and the soon-to-be released Prayer That Must, The Power of Conversational Prayer.  She also co-authored the book The Lamp, Be Aglow and Burning with the Spirit by Sandra Strange.  Susan is a passionate intercessor and is called to pray for revival in her generation and mentor others in a lifestyle of prayer.