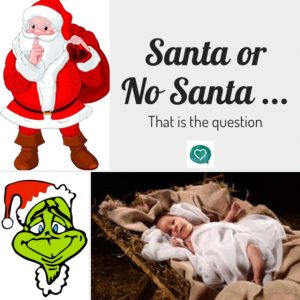 To Santa or not to Santa…that is the question that plagues many parents this time of year.  As the youngest of four children, I never stood a chance of believing in Santa Claus.  Let's face it, the further you are down the line, the less likely it is your family will maintain such a big secret for your enjoyment too.  Maybe that is why when we had children I did not feel compelled to perpetuate the myth of Santa.  Well, there is that and the whole it's-basically-lying-to-your—kids thing.  I say that without judgment for those of you who have made the decision to include Santa in your Christmas celebration.  I know many wonderful families that love their Santa traditions and I do not condemn them for it in any way.  To be clear, we never completed excluded Santa at Christmastime.  We just did not perpetuate the myth of Santa. We made the choice not to include the myth of Santa as a truth, because we did not feel comfortable telling our children something false.  In case you are wondering if I have scarred my children for life, I asked them how they felt about being raised in a home where Santa was always known to be only a myth.  All three of my adult children told me they were glad we told them the truth from the beginning.  So, why would you include Santa then?
The number one reason many families include Santa in their Christmas celebration is that it is fun.  I cannot argue with that.  Absolutely it is fun!  The idea that there is this grandpa-like character living in the North Pole with his minion of elves building special toys for each of your children is pretty fantastic.  Parents, do you realize if this was true how much less work we would have to do at Christmastime?  No budgeting for presents.  No shopping.  No hiding presents.  No wrapping presents.  We could go to bed on Christmas Eve and wake up to fully-filled stockings and presents around the tree.  That is a fantasy I could really get behind…if it were true.
The second reason many families include Santa in their Christmas celebration is the magic and wonder of it all.  It sounds like Disneyland, right?  Santa and the North Pole.  The place where every day is Christmas, you eat Christmas goodies all year long, and being good means a present for you in the end.  Yeah, I am pretty sure we call that Disneyland today.  Children are by nature filled with wonder and awe.  They are so fun to watch at Christmastime (or Disneyland).  Their eyes light up when they see Santa at the mall, or when they find a present under the tree with their name on it.  Those kinds of wonder and awe moments fade as we age.  As adults, we long to hold on to those childlike moments for our kids for as long as possible. There is nothing wrong with that.  But it is not reality.  It is Disneyland.
If Santa is fun and if Santa brings child-like wonder, why would parents wish to exclude Santa from Christmas?  Why did I choose to exclude the myth of Santa from Christmas?  Is it perhaps that as parents we already know what the Grinch had to learn?  "Maybe Christmas he thought doesn't come from a store.  Maybe Christmas perhaps-means a little bit more." Let's pause here for a moment and appreciate that I am sharing parenting advice from the Grinch!  But, he is right.  There is nothing inherently evil about Santa.  I certainly did not exclude the myth of Santa for that reason.  No, Santa can be a fun addition to your Christmas celebration. Even in our family, Santa was not completely excluded.  We still watched Christmas movies that included Santa or sang Christmas songs about Santa.  It was never Santa that we opposed.  It was the presentation of a myth as truth that we removed from our Christmas celebration.  It was allowing Santa to take center stage that we did not want in our home.  The real question for us and for you is whether or not to make Santa the focus of your Christmas celebration.  Christmas doesn't come from Santa.  Christmas doesn't come from a store.  Christmas comes because of the One for who it is named.  Christmas comes because Christ came, as a baby, fully God and fully man.  His birth was miraculous.  Dare I say His birth was filled with awe and wonder.  While Jesus Christ is not a grandpa-like character living up North, He is The all-knowing God.  He lives in an amazing place where there is no pain and suffering. We can share in His gift to us without budgets, shopping, buying, or wrapping anything.  His gift of eternal life to us is free for our choosing.  Yes, indeed, Mr. Grinch, Christmas does mean a little bit more.
I cannot tell you what is best for your family when it comes to Santa.  You have to decide how you want to handle Santa in your family.  For us, we found a balance between some of the fun parts with Santa but keeping our focus on Christ as the true meaning of Christmas.  Do I think your children will be scarred for life if you incorporate Santa into your Christmastime celebration?  Well, does it matter what I think or does it matter what you think?  Much like Shakespeare's question of "To be or not to be", to Santa or not to Santa is a question each person must answer for themselves.
Tricia McDonald is the wife of a newly retired Army Sergeant Major and a mother of three amazing children, ages 17, 18, and 22.  She recently gained a wonderful son-in-law as well.  She currently resides in North Carolina, where she homeschools her two youngest kids.  Tricia enjoys reading and is passionate about U.S. History.  She also volunteers as the music coordinator for a local semi-professional youth theatre group.  She would like to encourage young moms to enjoy each moment, as the years really do fly by quickly.