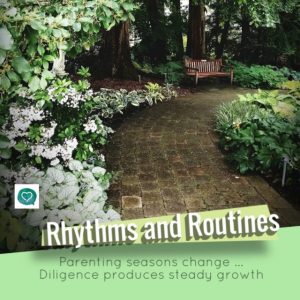 If you've read Babywise or taken any of the GFI classes for younger children, you know the importance of routine.  But what about routine for the stay-at-home mom whose kids are in school?  Or the work-at-home mom?  Or the almost empty-nester, like me?  Yes, even those of us without young children or babies in the home need to be characterized by diligence during our days.
Disclaimer – as I've entered a new season of life (two in college and one in high school; volunteering in ministry; and managing our home) I'm still figuring things out.  And by that I mean some days are inwardly and outwardly productive and some days are…, well, let's just say, "I'm working on it!"
At first I tried to figure out certain times for certain activities, each day, every day.  That worked until my high schooler had an early morning study session during my exercise time or an important email pushed back my scheduled cleaning.  I found that if I went off track in one area, the whole day followed.
After that I decided to write down daily goals or tasks, giving myself the freedom to decide in which order I'd address them.  This worked well for a while – until some things kept getting pushed from one day to the next to the next (note to self: the papers on the desk still need filing!).
So I've been thinking a lot about what this season should look like for me, wanting to "walk worthy" in my current calling (Eph 4:1) even though it's different.  While I may not need to schedule feedings and playpen times, certainly having too much freedom can lead me away from diligence.   This led me to think about the rhythms in my life.  What important things keep me on mission for God, my family, and others?   Could I be faithful to work on each of these things – if not daily, then weekly, or monthly?
Here are the rhythms I'm seeking to keep me on track.
💜Heaven – spending time with God, setting my mind on "things above" (Col 3:2)
💜Heart – loving and caring for my husband and children, intentionally speaking their love languages
💜Home – caring for and maintaining the house God has given us
💜Health – exercising the body in addition to planning, purchasing and preparing nutritious meals and snacks
💜Help – being on mission in ministry
💜Hugs – making time for friends and mentoring younger moms
💜Hospitality – sharing our home with others
💜Head – learning new things
💜Hobbies – crafting, knitting, diy home projects
What's great as I've considered this list is where I can see multiple areas overlap:
Here's a triple-
💜💜💜Heaven, Hugs and Helping – mentoring young moms while co-leading a Bible study at church
And a home-run!
💜💜💜💜Hugs, Helping, Home and Hospitality – leading couples through a GFI parenting class in our freshly tidied home
The beauty of rhythm is that while each day may not look the same, over the course of time, diligence in each area produces steady growth and God is glorified.
Bethany Mounts and her husband, Brian live in the Charleston, SC area with their three sons. They lead classes together and Bethany serves on the board for Christian Family Heritage in addition to being a Contact Mom.