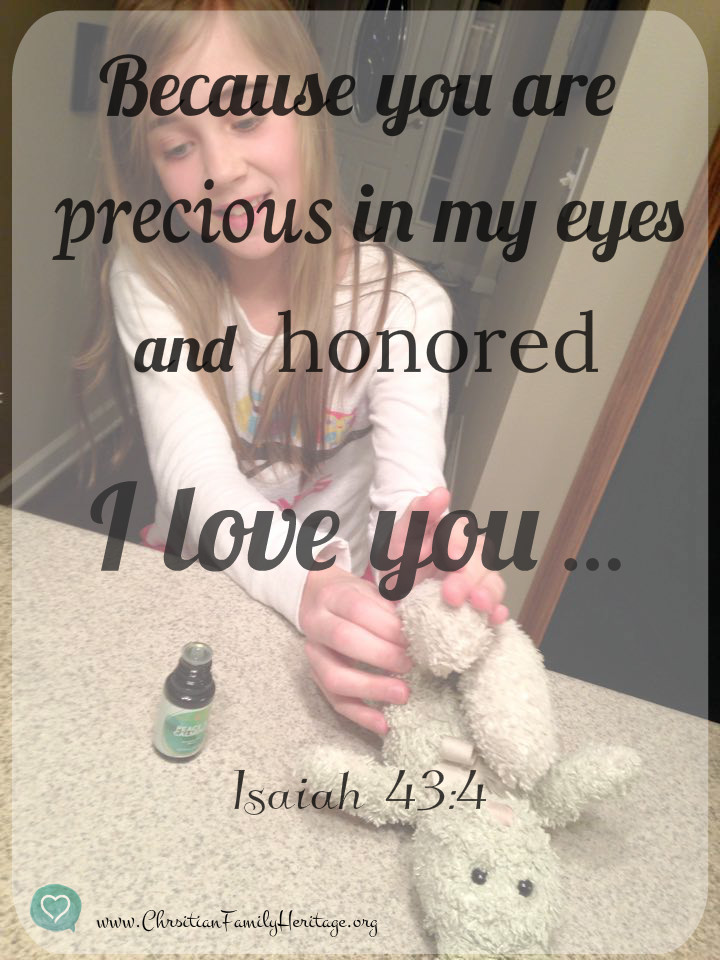 My daughter has a raggedy old bunny that she sleeps with.  One night as her dad was tucking her into bed, she told him how much she loved Bunny and that she would like to give it to her daughter one day.  Looking at Bunny, you would think there must be a nicer toy she would rather pass on, since Bunny is not the cleanest or in the greatest shape.  When we look at Bunny, we see a tattered worn out stuffed animal, but to my daughter it is a well loved and cared for precious possession.  Bunny's worth is based on what her owner sees.
That is how it is for us as well.  We, too, have an owner.  1 Corinthians 6:20 tells us we are not our own, but were bought with a price.  God is our owner.  Others may look at us and see a worn out, tattered, rundown mother or a broken man or a dirty child.  But God sees us as his precious children whom He has redeemed and bought at a price.  He loved us when we were like Bunny — dirty and worn out on the outside.  But He loved us in spite of what we were (Romans 5:8).
We should look at people based on what they are worth to God, not what they are worth to us or to society   When we begin to see others as children of God, made in His image and likeness, that He loved enough to send His Son to die for, we begin to love people like God has called us to love them.    Looking at people through God's perspective reflects God's loving character to the world.  As we move from day to day we can easily become busy and distracted with our plans.  But let's purpose to look at people as God looks at them.  Then we see them as their Owner sees them – priceless and precious.
1 John 4:7-12
Dear friends, let us love one another, for love comes from God. Everyone who loves has been born of God and knows God.  Whoever does not love does not know God, because God is love.  This is how God showed his love among us: He sent his one and only Son into the world that we might live through him.  This is love: not that we loved God, but that he loved us and sent his Son as an atoning sacrifice for our sins.  Dear friends, since God so loved us, we also ought to love one another.  No one has ever seen God; but if we love one another, God lives in us and his love is made complete in us.