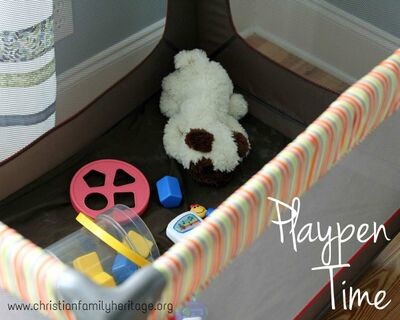 The best way to introduce the play-pen is to use it from the beginning. As soon as your baby comes out of the sleepy newborn stage and begins to have some actual waketime, chose one time per day to put him in the play-pen for a few minutes. It's best to do this early in the waketime while he is fresh and interested in looking and batting at toys on his own. 5-10 minutes is enough to start. This time can gradually be extended as his waketime extends. By 6 months of age my babies could play 20-30 minutes easily in the play pen. By one year of age I could expect up to 45 minutes of independent play at one time. Sometimes I would have 30 minutes of independent play in the morning and another 15-20 minutes in the evening when I prepared dinner.
If you want to begin using play-pen time with an older baby or even a toddler, I recommend you get a timer and start when your little one is fed, rested and fresh. Place him in the play pen with a few very interesting toys and let him know he can play until you come back to get him which will be when the timer beeps. Initially set the timer for 5 minutes. When the timer beeps play pen time is over. If your baby cries and protests at first, don't worry. As you are consistent in getting him each day when the timer goes off, he will eventually get it and start to take interest in the toys. When this happens gradually start adding time to the timer until you have him playing happily for the full 30 minutes.
Play-pen time does not always have to take place in the play-pen. Many moms who don't have space to have a play-pen up all the time use the crib and simply add toys when it's play time and remove them when it's time for sleep. Your baby will learn the difference. There is also great benefit in transferring this skill to blanket-time so that no matter where you are you can provide a safe play area for your little one. Once your child is too big for a play pen you can transition him to room time and continue to provide the many benefits of independent play as part of his day.
As a mom, the play pen was an invaluable tool to begin to train my child in sitting, focusing and independent play skills. It gave me great peace of mind to have a safe place to put my child down at those times when I needed both hands elsewhere knowing that he would be content there for a few minutes. I'm sure with patience and consistency you can train your child to not only enjoy play-pen time but also to reap the benefits.
Beth Ann, a Contact Mom with Christian Family Heritage, is wife to Chuck. They have four grown sons and two daughters-in-love. The recently became grandparents for the second time!