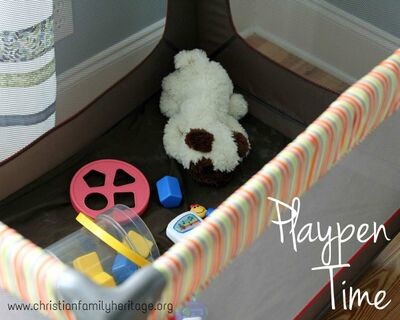 Frequently when asked about various aspects of routine in older infants and toddlers the topic of play-pen time comes up. Often moms ask if using the play-pen is really necessary. Many do not realize the benefits of having and using a play-pen as a regular part of their day and proactively managing their child's care.
Having a regular play-pen time does several things. FIrst, it provides a safe environment for your child when you must be busy elsewhere. There are many necessary tasks that must be completed in a day that can't be done easily while providing direct supervision for your little ones. Showering, doing certain household chores and sometimes tending your other children are just easier when they can be given your full attention without holding or keeping one eye on the baby. The play-pen provides boundaries to keep baby safe from getting into things he shouldn't and to also protect him from older siblings when you can't immediately supervise.
Secondly, play-pen time can be used to further learning and development by providing a limited but rich environment to explore and focus on toys more in depth. It teaches the child to play independently and to have self-control and focusing skills and it lays the groundwork for more formal schooling down the road. Giving the child fewer toys in the play-pen requires him to concentrate and focus on using what he has and finding out all the things a given toy can do and to be more creative in his play with that toy. A pile of toys in the play-pen gives too many choices all at once and many times the child will end up just sifting through them without really exploring any of them in depth. As new skills emerged in my child I would often introduce a new toy during one-on-one playtime with me and then add that toy in the play-pen rotation for further exploration. Typically I gave 3-4 items for my child to use in the play-pen like a favorite toy or stuffed animal, a book to look at and a toy to explore. I tried to provide things that were age/developmentally appropriate and would not frustrate the child, but would keep him interested for the duration of the time he had to play. I rotated toys to keep things interesting.
A third benefit to play-pen time is that it can bring added structure and routine to your day and your child's day. In addition to meal times and naps, a regular play-pen time brings order and flow. As a routine activity it can bring a sense of peace and security to the child because he knows what to expect. It is a tool which the parent can use to proactively direct the activity of the child and to reduce the amount of reactive parenting needed as when the child is left without boundaries to play on his own. For mom, she can plan those other tasks on her "to do" list such as return a phone call, pay a bill, prepare a meal or have a devotion time knowing baby is safe and content to play. This can bring her peace of mind as well, knowing she has a time slot to plug those things into her day.
Now, how do you introduce play-pen time? Stay tuned for Part 2 coming next week!
Beth Ann Plumberg, a Contact Mom with Christian Family Heritage, is wife to Chuck. They have four grown sons and two daughters-in-love. The recently became grandparents for the second time!