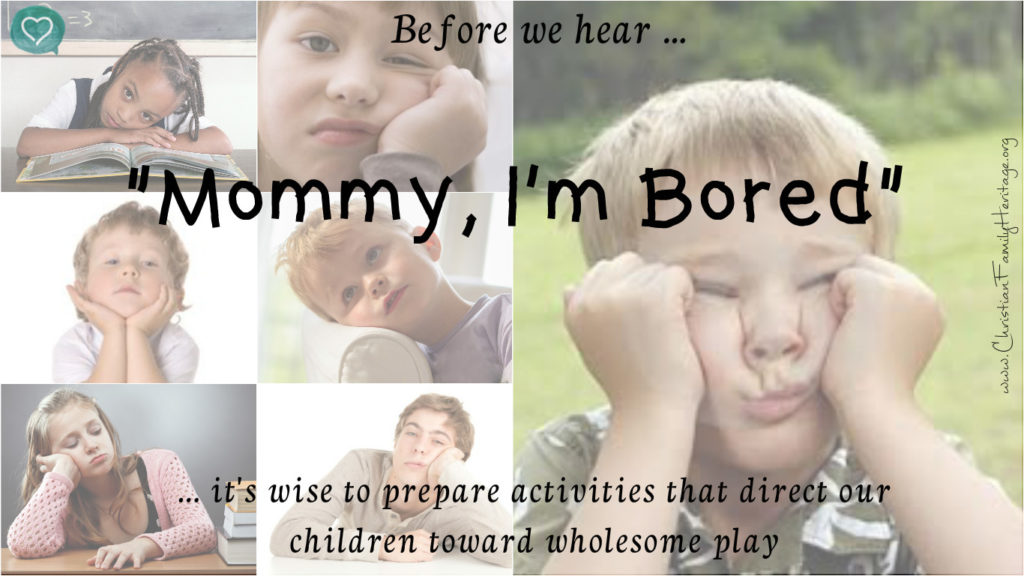 The best playtimes are delightfully relational and often educational! Children are naturals at playing, but sometimes mom and dad are wise to prompt their play in constructive directions by pre-gathering ideas and supplies and creating a time and space.
As a mom, I have found that it helps me to start my summer with brainstorming. (See the free summer brainstorm printables at the bottom of this post.) I don't want to be legalistic and make our brainstormed list a to-do list. But I do like the opportunity to search past the surface for deeply satisfying and relationship building activities for our family.
Here are some our best summer fun ideas from our family to yours:
Scavenger hunts
My dad created a scavenger hunt for my friends and me on my 9th birthday and I have loved them ever since. His scavenger hunt lead us all over our apartment complex to a hidden box of gold nugget bubble gum, one little white cotton sack for each of us.
The Ekhoffs love scavenger hunts. We've divided into teams and driven all over the city and we've sent the kids out with flashlights to search our property for hidden clues.
We also like the "bigger and better" version of the game. Players are divided into teams and each team selects a very small "white elephant" item from the house. Then they head out to knock on neighbors' doors, swapping for a bigger/better white elephant give-a-away. One time the children left with a penny and returned with a home satellite dish!
Some families are fantastic at creating scavenger hunts, but if no one feels inspired there are free printables online or fun purchasables like Family Scavenger Hunt in a Box.
(Of course, activities like these may need to be overseen by older siblings or adults.)
Planting something
One summer when I asked, "What would you most like to do?" an Ekhoff child said, "I want to plant a watermelon." I still have the picture of him proudly toting a medium-sized watermelon into the kitchen at the end of the summer. Watermelon never tasted so good!
Playing restaurant
We love this one and it makes sweet memories. The kids make and decorate menus, prepare the items on the menu (sometimes with my help) and set the table. At the appointed hour mom and dad enter and are seated at the table. They order from the menu and the waiters/waitresses and cooks go to work. The menu can include courses that are served one a time.
At the end of the meal, parents leave a tip – a kiss and big thanks, a surprise, or real cash!
We also enjoy this competitive variation: All the kids are banned from the kitchen while my husband and I each make a special dessert – this doubles as a great date night. When the kids return, the two desserts are on the counter along with ballots for judging based on presentation, originality, and of course, taste. Yummmmm!
Playing in a new place
One summer we set a goal to visit all the area parks with intriguing playgrounds or water parks that we had never taken time to stop and enjoy. We often took a picnic lunch and invited another family to join us.
Praying on-site
We loved this spiritual exercise and it helped us to invest in our church family in a fresh way. We got permission to visit our church sanctuary in the middle of the week and lingered there to pray for our congregation and pastors, walking between the pews and even kneeling at the podium.
A new Ekhoff tradition is to enjoy a series revival nights – at home. We listen to a speaker, share testimonies and pray together. Each meeting is cinched with an ice cream sundae bash!
Family bonding in the great outdoors
Staking a tent, building a tree house, making a bonfire, or setting up a playhouse has been the backdrop of many of our dearest family memories. Now that our children are older they make an event out of hammocking.
Reading
We love choosing a wonderful book(s) to read aloud in the summer. A family favorite is any of the Chronicles of Narnia. One summer the children drew pictures of their favorite scenes with fabric markers on muslin and I pieced a simple quilt to preserve the memory. (See the CFH blogs: "Read Me a Story" and "Reading Aloud, Pts. 1 – 3" for family reading ideas).
When the children were small, we sometimes had summer reading contests to see how many books we could read independently. At the end of the summer, we held an awards party and gave out certificates and prizes. Yes, this created work for me because I had to take the children to the library about once a week and come home with a back-breaking basket of 20 – 30 books at a time, enough to interest seven children of various ages and tastes. But oh, the quiet hours after that basket of books was set in the middle of the family room floor and every child gathered his/her stack into a comfy chair.
Reading a book aloud also makes a wonderful sibling date!
Dates
One year we read the book Making Brothers and Sisters Best Friends by Sarah, Stephen, and Grace Mally (siblings). This authors mentioned that they regularly planned dates with each other. So we gave it a try. Our oldest daughter planned a date with her little brother. They made a heart-shaped cake together and decorated it. (The whole family scarfed it down after dinner.)
When planning dates the child-in-charge gets to plan the activity. I've found that little kids can plan fun dates too! We still love homespun family dates.
Solving a mystery
This type of fun often begins with a simple question like: How do lightening bugs light up? or What's inside a volcano? Brainstorming a hypothesis, followed by a trip to the library solves this type of fascinating inquiry. (Hint: Sometimes I have to help my children think of questions to research.)
It is also fun to solve a mystery like: Which lock does this stray key open? or Can we dig a hole to China?
Most children enjoy mystery books – anything from The Box Car Children to The Hardy Boys. Our children were captivated by the Concord Cunningham series. Concord, the boy brainiac, solves local mysteries with the help of his Bible concordance.
These are some of our family's best ideas. Be sure to post your ideas in the response window below. Praying that your summer is filled with memory-making fun!