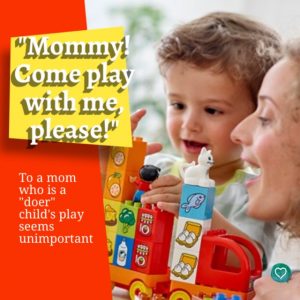 It's July.  Already I'm feeling exhausted trying to come up with ways to keep my son entertained.
I'll admit, I've played enough Monopoly and Legos for a lifetime and it can seem wearying in the moment. Maybe you are there now…we are a month into summer and the days are long. There are only so many new or fun things you can plan or think to do and in the in-between times, your kids are begging you to play their favorite games a zillion times over.
Through the years of teaching Growing Kids God's Way, my husband and I often joked that it should be called Growing Parents God's Way, but if we changed it no one would sign up to take the class. The truth is, God so often uses the process of parenting to reveal to us what needs to change in our own hearts and to grow us to become more like Christ. In this case, the problem isn't that we need to think of new things for our kids to do so they (and we) are entertained and won't be bored. We need to return to 'why' we make the time to put "play with Mom" in our routines in the first place.
Philippians 2:3-7 Do nothing from selfishness or empty conceit, but with humility of mind regard one another as more important than yourselves; do not merely look out for your own personal interests, but also for the interests of others. Have this attitude in yourselves which was also in Christ Jesus, who, although He existed in the form of God, did not regard equality with God a thing to be grasped, but emptied Himself, taking the form of a bond-servant, and being made in the likeness of men.
We are commanded as parents to diligently teach our children God's commands and talk of them when we sit in the house and when we walk by the way and when we lie down and when we rise up. (Deut. 6:7) Certainly playtime with our kids would qualify as one those times when we should be reinforcing God's truth to them. We need to see past the activity at hand and see our children. When we enter into play with them and allow them to choose the activity, it is an opportunity for us to be like Christ to them. We can humble ourselves, consider their interests ahead of our own, empty ourselves, and become like our children in those moments, enjoying what they enjoy… even if it's not our favorite game. Sacrificing for others is never a waste. There are plenty of times we require things of our children that they do not enjoy. And I am not suggesting that you drop everything just because your child asks you to play with them, but we should set aside time to enter into our child's world of play. Playtime is a great time to focus on observing your child's strengths and weaknesses, understanding his unique personality and finding out what makes him tick. We can use this time to teach skills and lessons, like learning to take turns and to be patient and to share. Many times I am able to reinforce what we learned in our devotional that morning. Sometimes I simply enjoy a little time to be together. Our little Monopoly player grew up to be a business major and now is a general manager of a local restaurant. He is applying godly principles in his management of people and business. I like to think much of the fruit we now see grew from little seeds planted during long hours of playing Monopoly and other games.
To a mom like me who is a "doer", child's play seems simple, unimportant, idle, and a little bit lazy. I need to remember that I am not playing with my child for my own edification, but to build into him. It is kingdom work.  It is a way I can show him his worth as a person. He is loved and accepted. In the same way Christ emptied himself and became what I am, I can empty myself and become a child for a few moments a day to give my son what he needs, to show the love of Christ, and teach him to walk in His ways. Take time to play with your children- not just keep them entertained. It may not be the most urgent thing on your to-do list, but it may be one of the most important.
Beth Ann Plumberg is a Contact Mom for Christian Family Heritage. She is wife to Chuck, mom to four grown boys and 3 daughters-in-love and grandma to 3 precious babies. Chuck and Beth Ann are active in their local church discipling young parents and leading classes.