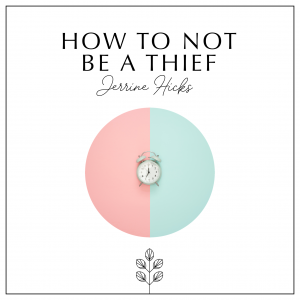 How Not To Be a Thief
All of us have been victims of a thief at one time or another. Some of us remember having our lunch stolen in elementary school. Maybe you were getting ready to pull into a parking place and a car from the other side decided to make "your" spot their pull-through. Grrr. Or maybe you hurried to a meeting so you would be there on time and no one was there.
Material objects, spatial dominion, and time can all be stolen. Of these three, time is the hardest to restore. Even if you have three jars of "Thyme" in your spice rack, it does not make up for lost time!
Our culture pushes a "Relax! Chill out! Don't be stressed!" attitude. This is great in certain situations where being late might be considered "fashionable".  But is being late really okay? I argue that it is not. Here's why:
Being late says that the other people are not as important as you are.
According to the principle of the preciousness of others, being on time shows that you respect the other people's efforts to be there.  Maybe they had to take a shortcut to make it there promptly or get up earlier than usual or leave a more desired situation to meet with you on time; you do not know their context. Or perhaps this event is the highlight of their week and they could not wait to get there! Either way, by being late, you are letting everyone know the meeting should not start until you arrive, which is selfish.
Being late is a habit and habits can be changed.
I am a connoisseur of time management books, and almost all of them say to start planning tomorrow morning this evening. If being late to church is a chronic issue in your family, try getting everything (Bibles, shoes, clothes laid out) together the night before. If making it to appointments on time is a struggle, head out earlier. One author recommended adding an additional 25% to the drive time to give yourself margin. Here's some time management math: if the drive is typically 30 minutes long, how much earlier would you need to leave to give yourself that extra 25%? About 8 minutes! Wow. That's not much. Note: if it takes 8 hours to drive to Grandma's house, please do not quote me and leave two hours earlier!
Being late is a form of stealing.
When I worked in the corporate world, we would estimate how long a task would take by calculating "man hours." Let's do a little "man hours" math here, too. If one person is five minutes late, and 5 other people are waiting on her, you just lost 25 minutes of productivity (not including the thief's time).   That's 25 minutes that cannot be returned.  If that same person was 15 minutes late, that equates to losing 1 hour and 15 minutes!
Although adults are often the ones with "late" problems, our children struggle with this too. How can we help them?
Teach them about the preciousness of others,
specifically addressing how to respect someone's time. Are we showing someone we appreciate him if we continually show up late to his activities?
Work on being on time.
Here's a fun experiment to try: tell your children they need to be in the kitchen at a specific time. Set a timer for littles who are not clock readers yet. When that time comes, whoever is in the kitchen goes out for a special treat! I'm thinking ice cream.  The first time you run this experiment, one parent will most likely get stuck at home. Make sure there's a second time you do this ~ the entire family should be together!
Set a good example. Be the adult!
Ask your children to pray for you as you make changes in your own life. We can do all things through Christ Who gives us strength, even being on time!
Glen and Jerrine Hicks have been married 33 years and live near Sedalia, CO.  They have two adult daughters and one son-in-love.  Jerrine's idea of a perfect day would include a pot of PG Tips tea, some dark chocolate, a Jane Austen movie, and time reading Martyn Lloyd-Jones, Jerry Bridges, Emilie Barnes or L.M. Montgomery.  She loves couchtime with her Glen.  She is an introvert.  😉  The Hickses have been involved with Growing Families since 1996.