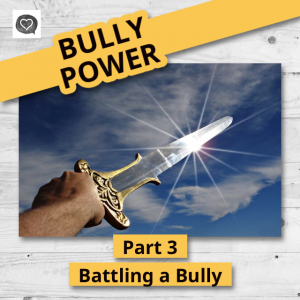 There are strong emotions triggered when parents learn of any form of victimization of their child. It feels like you need to plan a reconnaissance mission, send up your drone, or set an ambush… whatever it takes to protect and defend!   As parents, we want to give our children the 'weapons' they need to prepare for the world of bullies, proactively arming them for the battle.
Parental patrol calls for being alert and aware.  Not all children who are bullied will admit it's happening; some will talk about it with a parent, some won't.  Listed below are some cues your child could be on the receiving end of bullying:
sudden avoidance of social situations
sudden loss of friends
unexplained injuries
declining grades; loss of interest in schoolwork; not wanting to go to school
lost or destroyed clothing, books, electronics, jewelry or other treasured possessions
emotional changes
Whether these signals are present in your child or not, arming your child with the weapons that will carry them through various conflicts in life, including a battle with a bully, will be beneficial.
Consider mobilizing your child with Truth — right ways to think, how to respond, and even when to remain silent.  You may need to intervene on behalf of your child.  Intervention will be dependent on both the age of your child and where the bullying is taking place.  Talk to your child's teacher or another trusted friend who has observed the bullying situation so that you can preemptively help your child handle the next encounter wisely. The older elementary child may think he or she can handle the situation or be fearful of being labeled a wimp, mamma's boy, or tattler (more forms of bullying).  He may, therefore, not want any help or intervention.  However, adopting some of the following ideas may help you as a parent equip your child to be a "mighty warrior".
The Peace Accord – Civility 
Civility is more than being courteous and polite; it's a moral minimum of life.  It's about disagreeing without disrespect, dialoging about differences without degrading, and listening without prejudice.  Teach and model for your child civility so when a bully strikes, your child has the weapon of principled living.  The Bible calls us to be examples of doing good (Titus 2:7); to overcome evil with good (Rom 12:21); and to not return evil for evil but good for evil (1 Peter 3:9 & Romans 12:17)  Psalm 34:14 says Turn from evil and do good; seek peace and pursue it.  Civility is an armistice toward peace. Civility is effective to impede a bully.
The Stealth B-2 bomber – Say nothing at all
Do not answer a fool according to his folly … Proverbs 26:4.  The more attention, by way of response or interaction, you give a bully, the more important the bully feels and seeks further attention.  Conversely, when you do not respond, it may shut the bully down.  Furthermore, Proverbs 17:14 says to …drop the matter before a dispute breaks out.  The small effort of remaining quiet can prevent great catastrophe.  Proverbs 17:28 conveys that there are times you are considered wise if you say nothing at all – battling a bully is one of those times.
Prayer Bullets
But I tell you: Love your enemies and pray for those who persecute you. (Matt 5:44).  Bullies qualify.  It's difficult to pray for a bully or anyone who is 'against' you or intending wrong toward you or using you, but it's one of the best things you can do.   Praying for someone who is doing evil toward you not only impacts the bully, it changes the heart of the one petitioning on behalf of the bully.  Prayer is actually one of the deepest forms of love.  When it's challenging to love, pray.  A bully can only have power over you if you don't use the Power in you!  It's very possible that the child who is "the bully" has been deeply wounded and is being 'bullied' at home either by an older sibling or sadly, in some cases, by the parents. Not every home speaks "life-giving words". Consider conveying this possibility to your child, encouraging your child to pray for this potentially 'troubled' human being.
Armed for Amnesty
Use the weapons allocated to you in your battle with a bully.  As with other issues that we encounter in parenting, bullying presents an opportunity for our children to grow through hard experiences.  James 1:2-4 tells us to Consider it pure joy, my brothers, whenever you face trials of many kinds, because you know that the testing of your faith develops perseverance.  Perseverance must finish its work so that you may be mature and complete, not lacking anything.  The Word equips us for every single life issue.  2 Peter 1:3 says His divine power has given us everything we need for life and godliness through our knowledge of Him who called us by His own glory and goodness.  Tap into the power of God available through His Word to end the conflict. While it's difficult to walk through this with your child, be thankful that you are truly not alone and it will be a faith-growing opportunity for both you and your child.   Learning to pray, pardon, forgive, and move forward with joy makes a bad situation into a beneficial experience.
Mortar – The Golden Rule 
"Do to others what you would have them do to you."  It's not just a saying or a good idea… this instruction is given by Jesus Himself in Matthew 7:12. Simple words, yet hard to do!  No matter how hard we try, we tend to be so wrapped up in our own needs and desires, we fail to even think of others, let alone tend to their needs. Why is it so hard?  The simple answer is – sin!  That's why we need Jesus.  He came into the world to save us from sin and it's power.  Only in Christ do we have the power to love others and treat them the way that Jesus would.  Reminding yourself and your child that while a bully may appear to have power, those who trust Jesus possess the awesome power of Christ.  God is our refuge and strength, an ever-present help in trouble (Ps. 46:1).  Bind your life to Christ; live by His Truth, He will be with you in any battle.  Exodus 14:14 says The Lord will fight for you, you need only be still.  Be still before Him and trust His Word to find help through any attack.
Whether your child is the 'bully' or is the one in the line of a bully's fire, these times are opportunities for discussion and guidance between the child and parent.   Parents have a chance to mentor their child through a trial, equipping them with spiritual munitions to be used for a lifetime.
If you have had experience supporting your child through bully-related issues, or perhaps you've reformed a budding bully in your home, please comment or contact us.  There are many contributing factors to the bully issue … share your story, we would love to hear from you.
Karen Kurtz is a mom of 4 Babywise/Prep for Parenting babies.  All of them slept through the night as prescribed in the Ezzo's parenting books.  As a Contact Mom, Karen enjoys helping other parents train their babies and children.  Karen and her husband Don, make their home in NE Ohio and all four babies are now young adults.
To read Part 1 of this series, Bullying ~ Unmasking a Bully:  https://christianfamilyheritage.org/bully-power-unmasking-a-bully/ ‎
To read Part 2 of this series, Bullying ~ Bully Prevention:  https://christianfamilyheritage.org/bully-power-bully-prevention/