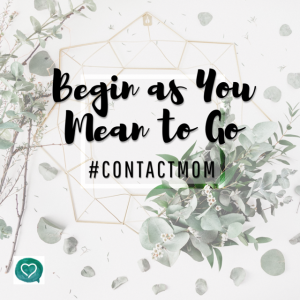 If only there were a GPS for parenting with turn by turn directions.  Want a teachable moment with your teenager?  Turn here.  Your toddler throws a fit?  Re-routing available.
I'm so glad my husband and I found the Growing Families.Life materials before our first child was born.  We listened to audio cassette tapes of Preparation for Parenting while sitting in the room all prepped for his arrival. Soon after, we attended a Growing Kids God's Way class led by some friends of ours.  Because we took that class when our oldest was still a baby, much of it was beyond our current stage of parenting.  But it gave us a vision.  A plan.  A destination, if you will.  A goal of what we desired for our marriage and our growing family.
These courses, along with the Parenting from the Tree of Life series, provide Biblical wisdom in your parenting and suggest many for practical applications.  They helped us chart our parenting path from the beginning.
Does life always go as we plan?  No. But with God's grace, we press on and continue the journey set before us.
"Begin as you mean to go" is more than a catch-phrase.  It's a reminder to:
be present in the midst of a busy day
be intentional in charting your course
be prepared by taking classes and reading books
be proactive by not waiting for things to escalate before dealing with them
be mindful in the little moments
be prayerful to do all things for His glory
"Begin as you mean to go" reminds us that our short term decisions have long-term results. It helps us reach our desired destination, much like a GPS.
Start children off on the way they should go, and even when they are old they will not turn from it.  Proverbs 22:6 (NIV)
Bethany Mounts and her husband, Brian live in the Charleston, SC area with their three sons. They lead classes together and Bethany serves on the board for Christian Family Heritage in addition to being a Contact Mom.