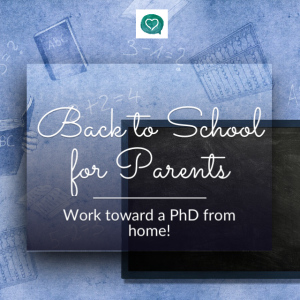 "So, what do you do?" the curious new friend asked.
"Oh, I'm just working on my PhD," the young mom replied with a smile.
I wish I had a dollar for every time someone asked me what I did.  And I wish I would have given the "PhD" reply because I was working on my PhD.  Not exactly the PhD that the world thinks of, and for which I have a great deal of respect, but the one that stands for Parenting, Homeschooling, and Discipling our children.  Before you stop reading, thinking that this article does not apply to you, please let me explain.
Parenting
Parenting is a big deal.  It is a commitment on the level of marriage!  You are in it for the long haul, not just for 18 or 21 years.  Not just on the days where your child does everything you tell her and she does it right away, all the way, and with a cheerful heart.  Not just on the healthy days.  All the time, with and without tantrums (yours and theirs), in sickness and in health.  Taking "Growing Kids God's Way" helped my husband and I lay a strong foundation for our marriage which in turn allowed us to train up our daughters based on God's principles.  Were our daughters always perfect, obedient children?  No.  Were we always perfect, patient parents?  No, I'm sorry to say – but it's the truth!  Parenting is not an equation.  The best parents we know may not be perfect people nor have perfect children, but they are husbands and wives with strong marriages and committed prayer lives.
Homeschooling
Homeschooling is more than just parents who teach their children academics at home.  In my eyes, every parent is a homeschooling parent!  From the time your child wakes up in the morning until he puts his head on his pillow at night, you are teaching him something – whether it is academics or a practical life skill.  It might be how to do his math homework or it might be how to tie his shoes.  I am a public school graduate, and I am incredibly thankful for the hours my parents invested helping me with my academics.  My mother taught me handwriting.  I am left-handed and my teachers kept making me turn my paper and "hook" my wrist.  Mama knew better.  My father patiently taught me how to divide.  I ended up making a career with those math skills.  My parents taught me other academic subjects, too, and practical life skills that helped me transition to adulthood without a lot of drama.  In retrospect, I was "homeschooled."  As a parent, you know your child better than anyone else.  You are always teaching because you know what they need to learn.  Spoiler alert: you do not get sick days or summers off, but you will be paid with love.
Discipling
Discipling is passing on biblical values to your children.  In our home, we used tea time to set the atmosphere for spiritual training.  A day without tea and Bible reading was very rare in our home!  I taught my children how to study the Bible on their own because I wanted them to have those skills.  My husband and I wanted them to know God's truth so they would recognize the counterfeit "truth" of the world.  As you have heard many a parent say, your children grow up all too fast!  The time and effort spent discipling your children is one of the most important facets of parenting.  Model for your children what you want them to do and who you want them to be.
As a new school year smiles at you around the corner, pray about ways you can work on your PhD this year.  Do you need some encouragement in your parenting?  Sign up for a Parenting from the Tree of Life class.  Are there things you want your children to learn that may not be taught at their school?  Pick up a copy of What Every Child Should Know Along the Way for suggestions on age-appropriate practical life skills your children should know.  Not sure how to help your children fall in love with Jesus?  Listen to Joey and Carla Link's excellent presentation "Using the Bible in the Instruction and Training of Your Children."  Working on a PhD takes determination, commitment, and a lot of prayer.  This PhD has some advantages over the academic one: the Holy Spirit promises to come alongside and help you, and you have more than seven years to complete it!  😊
Glen and Jerrine Hicks have been married 31 years and live near Sedalia, CO.  They have two adult daughters and one son-in-love.  Jerrine's idea of a perfect day would include a pot of PG Tips tea, some dark chocolate, a Jane Austen movie, and time reading Martyn Lloyd-Jones, Jerry Bridges, Emilie Barnes or L.M. Montgomery.  She loves couchtime with her Glen.  She is an introvert.  😉  The Hickses have been involved with Growing Families since 1996.