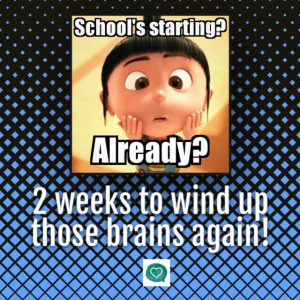 The first couple of weeks back to school for the year can be hard work for both parents and kids. We've had a great break during the summer, and that was just what we needed back in May! During those months we loosened up routines: we had a lot more free time, playdates, fun activities, sleepovers with grandparents or friends, vacation time, and perhaps a bit more screen time too. This all means that settling down to focused learning again can be stressful and it can take a while to get back up to speed.
I found that actively planning a "Wind up the Brain" period at the beginning of the school year really helped. It will work whether your kids go to school or are homeschooled. When the kids were younger, we used about two weeks for this process. I also used a version of it leading up to the first week back after the holidays. If you have little ones or a new baby, their feeding and nap routines may need to be tweaked during this time also. This is a good time for rethinking how to balance your time with older and younger ones in the family.
The three key areas we worked on were routines, concentration skills, and love of learning.
Routines: During the summer, mornings were quite fluid for us so a reasonable start time needed to be re-established. We usually needed to do this over a couple of weeks, winding the time back in stages. This would also include being clear about what self-care activities and chores needed to be done. When everyone was ready, we would then have a devotional time together to signal the start of our learning time.
Concentration Skills: Free playtime and entertainment are much more a part of the summer than the school year. The balance of free time and directed activities changes and some kids (and moms!) find this transition harder than others. Be proactive! Work on giving good quality instruction and being consistent about obedience. Allow time for them to re-engage. Some of the best things we found for building concentration skills again were doing read-aloud books together, personal reading times, logic games, and other board or card games. Family projects can also work well as you can focus on giving and following instructions and working as a team. Intentional discussion around the devotionals and books we read together also helped the children to re-establish remembering, paying attention to detail, and critical thinking. An important part of rebuilding concentration skills is to reduce screen time to a minimum if your children were doing a lot over the summer. Their brains need to detox from the effect screens have on their ability to think and concentrate.
Love of Learning: There is often a topic that doesn't quite fit in our homeschool curriculum plan or the children's school day. This "Wind up the Brain" period is an ideal time to include that topic. We enjoyed using Further In Further Up, a unit study guide on the Chronicles of Narnia, to encourage their love of learning. Another way to fan the flame of learning is to spark off a topic from a book you are reading together or a place you visited over the summer. Each child may have something they would love to learn about or Mom might choose something. We have used lapbooks sometimes for this. They are a fun way to learn something new.  Check out homeschoolshare.com for lots of free ideas and templates.
Resources for your own "Wind Up the Brain" time:
Devotionals: Family Guide to Narnia by Christin Ditchfield, The Gift of Values by Rosie Boom
Logic Games: Solitaire Chess, Railroad Rush Hour, Set, Block by Block, Intercept (3D Connect4)
Books to read aloud together: The Push Cart War by Jean Merrill, the Kingdom Series by Chuck Black
Good skills to include during this time: keyboarding, Scripture or poetry memorization, world geography games or puzzles, crafts, sewing, cooking, woodworking, music appreciation, creative writing (make a family joke or poetry book, do Mad-Libs, or use a guide like Create-a -Sleuth to write your own detective stories), computer programming, or ballroom dancing
These are just a few of the many wonderful resources and ideas out there. Please leave other suggestions in the comments section.
Linda and Jeff Gage have 4 children ages 16 to 23.  They have lived in New Zealand and Missouri and are now living in the heat and dust of Riverside, California.  Jeff is a Professor of Nursing. Linda is transitioning from homeschool teacher back to nursing, working with new mothers and babies. They have used GFI principles in their own family from the birth of their first child and have mentored many families over the years through teaching classes and providing Contact Mom support. They are now also using the principles to support young and at-risk parents