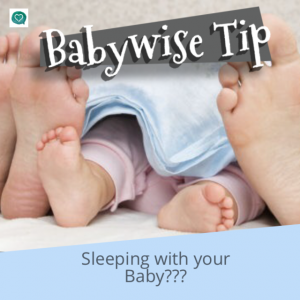 To the point of becoming faddish, co-sleeping with an infant is on the rise.  Maybe you are contemplating the practice for your own family.  Some theorists will tell you bed-sharing with an infant is the ultimate bonding, attachment, and nighttime breastfeeding experience.  It is also deadly!  What facts do we know about co-sleeping with an infant?
Since 1997, the American Academy of Pediatrics (AAP), National Institute of Child Health and Development, and the U.S. Consumer Product Safety Commission have put out medical alerts warning parents of the death risk associated with sleeping next to an infant.  The seven year study tracked the deaths of over 500 infants due to parents lying next to their babies in such a way that they were partially or totally covering them.  Do not be misled by that number.  It is a small fraction of actual parental overlay cases occurring each year in the U.S.
The American Academy of Pediatrics public policy statement reads, "There are no scientific studies demonstrating that bed-sharing reduces SIDS (Sudden Infant Death Syndrome).  Conversely, there are studies suggesting that bed-sharing, under certain conditions, may actually increase the risk of SIDS."  Further, in 2005 the AAP Task Force on SIDS labeled shared sleep with infants as a "highly controversial" topic, and called the practice of bed-sharing as "hazardous."
This is why co-sleeping with infants may be the ultimate risk decision of our day.  Infant deaths related to unsafe sleeping practices have reached "epidemic" proportions, and every one of those deaths was preventable.  Infant deaths from SIDS are tragic but deaths from parental overlay as a result of following a dangerous parenting philosophy are both tragic and needless.  Safe and sensible sleeping arrangements start with Baby out of Mom and Dad's bed.
Excerpt taken from On Becoming Babywise by pediatrician Robert Bucknam, M.D. and Gary Ezzo, M.A.  (2017 6th Edition)