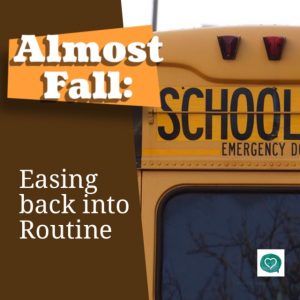 Even with the best of intentions, in summer routine often gets away from us. So many fun activities, vacations, visits with family and friends, later bedtimes and later mornings…it's all good, but it does make keeping the kids on a routine difficult at best. With the end of July comes "Back to School" sales and our attention turns to fall and whatever the "new normal" is going to be.  Here are some tips for easing ourselves and our kids back into routine.
Set a goal.  Take some time to think about what you want/need the routine to look like by the time school starts and write that down. This is your end goal. Break that down into smaller steps to implement over the next few days and weeks.
Start with smaller changes first.  This may be something simple like just getting the kids used to going to bed a little earlier and getting up a little earlier each day until you reach your desired times. Starting small also helps you to ease into the coming changes.
Reduce and replace screen time.  Summer at our house always brought more movies and video/computer games. These were great times often spent together playing and watching as a family. Yet an increase in screen time can have a negative effect on focusing and concentrating. You can help your kids ease back into school mode by backing off of screen time and replacing it with other fun activities that encourage these skills. Puzzles, reading, writing, art projects, building activities, board games and creative play all require your children to use their imagination and problem solving skills. By the time school started, we limited recreational screen time to a weekend-only activity with a time limit. If you are reducing screen time then it follows that you also need to…
Increase structured time.  Summer is a great time for lots of open, unstructured playtime and daydreaming. Your child may enjoy increased freedom to choose what she wants to do and when. Long and busy school days are soon returning and her time will no longer be her own. Adding even a half hour or hour of structured time to her day now, where you choose a fun but focused activity for her, can help her get back into the groove of following directions and completing assigned tasks.
Capitalize on the back-to-school excitement.  Your kids may balk a bit as you begin to implement some of these changes. One way I helped overcome this was to generate and encourage that back-to-school excitement. I would let them help with the shopping and even let them break in one or two items from their new supplies. Since we homeschooled, the day our new books arrived in the mail was always a fun day and I let each child pick one new book to read ahead. Even my more reluctant readers enjoyed this and looked forward to using their new things.
Practice the "new normal" before school starts.    This may seem a little crazy, but when my kids were younger and we had to start a new routine or tweak an existing one, I would sometimes take a day to practice. We made it fun (and often competitive), but when the first day of school arrived there was no question about what needed to get done.  I would break this down into morning and afternoon routines and practice each one separately.  I tried to keep the steps simple and fun and make a game of it. As a goal incentive you can have a reward waiting for when they complete the routine within the time allotted without forgetting any steps.
Even if you have that last get-away planned for the week before school, planning ahead and implementing some of these tips now will help ease your transition and reduce the back-to-school routine chaos.
Beth Ann Plumberg is a Contact Mom for CFH. She is wife to Chuck, mom to four grown boys and 3 daughters-in-love and grandma to 3 precious babies. Chuck and Beth Ann are active in their local church discipling young parents and leading classes.