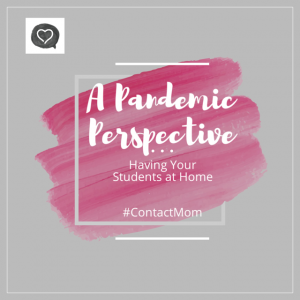 Do you unexpectedly have your college student(s) living at home due to the closure of campuses?  We do!  Or maybe your high schoolers are suddenly learning from home after their schools closed.  As a former homeschool family, I blissfully pictured being back on a familiar routine complete with 3 meals together, school time, free time, and responsibilities.  While those sweet times occurred when our children were younger, it's not realistic for me to assume that this picture will remain the same with young adults or teenagers back in the home full time. In fact, we are still finding our groove, which is okay! Here's the reason why: CONTEXT.
The pandemic and its effects occurred suddenly.  Students who intended to come home for a week-long Spring Break found themselves home for the semester.  While they are adapting to distance-learning, professors and teachers find themselves completely re-thinking teaching methods.  The same is true for our high school senior and applies to many different students in various grades and schooling situations.
CONTEXT is helping us navigate this uncharted territory:
Conversations allow us to discuss our new normal together. What are the expectations and which ones need to be modified?  Where can each of us bend and give?
Otherness reminds us to consider the needs of all of our family members.  We each have different schedules and responsibilities for outside commitments.
Neatness has been a biggie for me.  While having everyone spend hours on deep cleaning and decluttering their closets and drawers would be amazing, I'm choosing to be content with public spaces that are tidy and clutter free.  In addition, we've started picking one bigger project per week (like a bedroom closet) that my adult children and teens can complete on their own time.
Time is precious, so why not make the most of it?  When I'm walking daily for exercise, usually one of my sons will volunteer to walk with me. During these times, deeper concerns of the heart make themselves known.  Even walks around the block with the dog provide opportunities for me and my husband to connect.
Eating together has been tricky due to work and school. We just can't get our mealtimes synced.  While I'd love to eat breakfast, lunch, and dinner together daily, we've agreed that weekday family dinners will be a priority.  But even last night, a college class interrupted that plan.  Weekends are more relaxed, so we can grill out or eat leftovers together as work and study schedules allow.
X-tra sleep is okay. College students keep different hours than we do, and that means later bedtimes and, yes, later wake-up times.   My husband and I are usually up at 5 am.  While I'd love to see our kids up at a "normal" hour, we've settled on meeting in the middle.
Togetherness is key.  Living in the same house doesn't mean we're necessarily together.  We've actually had to work harder to make our schedules meet.  Family nights may not occur as frequently as initially envisioned, but one non-negotiable time together is church.  We've enjoyed worshipping together with our church online.
As defined by dictionary.com, context is "the set of circumstances or facts that surround a particular event, situation, etc."  We find ourselves in unprecedented times as we follow stay-at-home orders and practice social distancing.  Considering the context allows for flexibility.  Letting go of my expectations has been key.  When we look back on this time, I pray that it will be said of us that we made the best use of our unexpected time together.
Eph 5:15 Be very careful, then, how you live—not as unwise but as wise, making the most of every opportunity…
Bethany Mounts and her husband, Brian live in the Charleston, SC area with their three sons. They lead classes together and Bethany serves on the board for Christian Family Heritage in addition to being a Contact Mom.