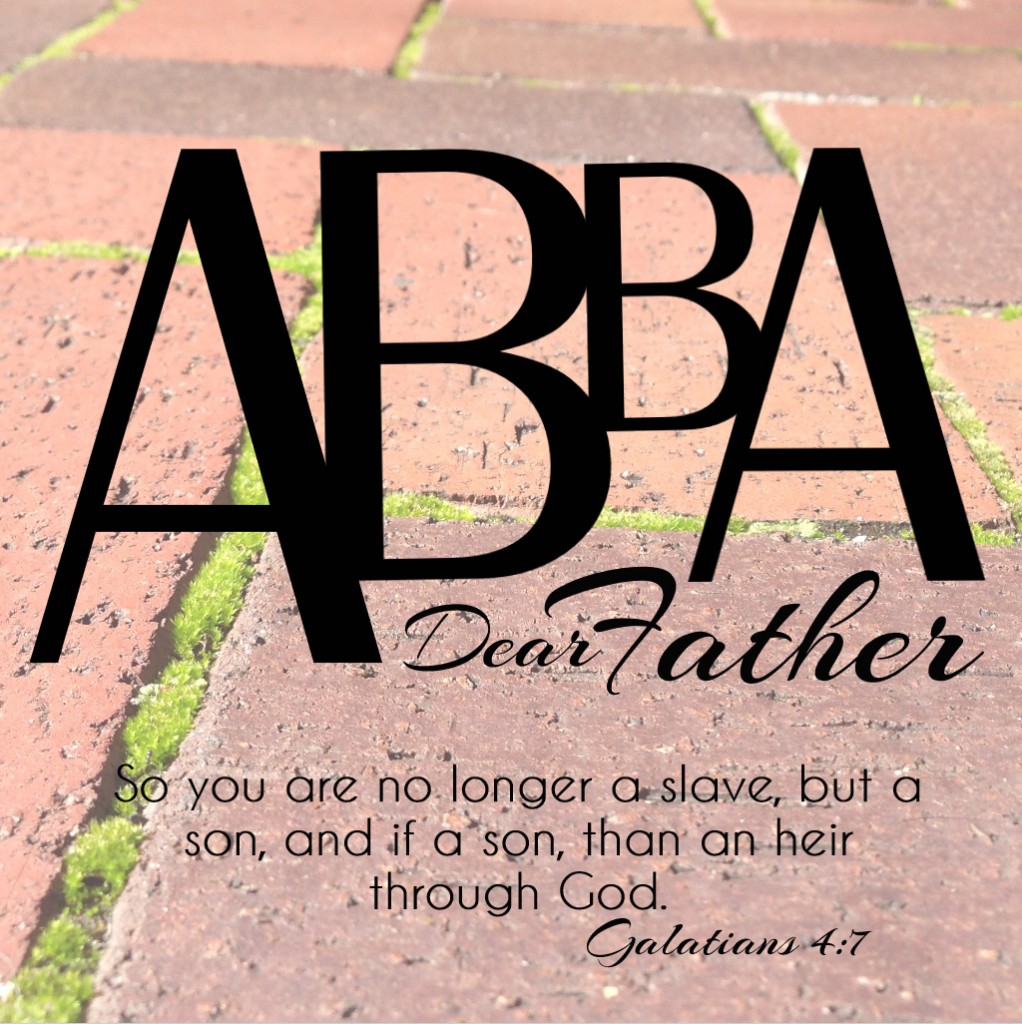 Abba — (Hebrew) papa, "dear father", daddy
I love my dad.
Talking about my earthly dad. He is a wonderful man. Loyal, hard-working, contemplative, slow to anger, quiet, focused, faithful, tenderhearted, loving, sarcastic, humorous, the most important person in my life to date, maybe forever. I love him very much; I would not be where I am today without his discipline, guidance, love, and patience (Lord knows I need a lot of it).
He is also the complete opposite of me, personality-wise. Literally if we take personality tests we would be on exact opposite sides of the spectrum. We have different love languages, ambitions, and preferences. I'm a super touchy-feely, talk about my feelings, loud and obnoxious kind of guy. He's a humble, quiet, and steady plodder. I need excitement, he needs calm. This used to bug me a lot.
Fathers are vitally important. Statistically (and personally, in my own life), kids who struggle with sin issues and walk away from God often have abusive fathers, negligent fathers, absent fathers, or simply cannot relate to their fathers. This isn't to say that mothers are not important; in fact, the opposite is true. Biblically, the two (father and mother) work together, using each other's strengths and weaknesses to help raise their kids to love God. But according to God, the father is the head of the family (1 Corinthians 11:3,  1 Timothy 3:12, Ephesians 5, Colossians 3).
So when you feel like you can't relate to your dad, it creates problems. In my limited experience, the greatest desire of children is to know that their dad loves them and is proud of them (I know that has been true for me). Other people can tell me how amazing I am all day, but it means something more coming from him. I loved my dad, and he was a beautiful example of God's love and Fatherhood, but he was just that: an example. He isn't perfect. I won't be a perfect father, either. Our love as humans can be a reflection and a symbol of God's love; but it's still a reflection and a symbol. When I get married one day, my wife and I will love each other very much, yes, but she can't fulfill all the needs of my heart. Our love for each other will reflect and demonstrate God's love, hopefully drawing us closer to Him, b/c He is perfect. And my dad, as much as I love him, is not. So there were times growing up where I wanted something from him and I didn't get it, where I wanted to talk to him about something but couldn't, wanted to hear him say something and didn't. This isn't even necessarily his fault, and it certainly doesn't mean that he is a bad father; we were just really, really different. My middle sister and my dad have a beautiful relationship; their personalities are practically identical, and it's adorable to watch them interact, b/c they relate to each other so well. But I was different. And sometimes that caused pain for me.
So maybe you were like me: great dad, loved him to death, but maybe you had trouble relating to him. Guess what? There is good news for you :).
Or maybe you do honestly think that your dad is perfect: you have the same personality, you can talk to him about anything, and you don't feel like there are any barriers between you. Guess what? There's still good news :).
Or maybe your father hated you, despised you, abused you, neglected you, abandoned you, or never even knew you. Guess what? There's really good news :).
And the news is this: God is not your dad. He is Abba.
LITERALLY the perfect father. He will never leave you or abandon you, never hurt or abuse you, never stop loving you, never quit on you. There are no barriers with him. Even if you didn't have a loving father, you can still approach him with confidence, curl up in his arms, and talk to him about anything. And if you've never had that experience, He can teach you how to love Him. He's literally that good.
It wasn't until I stopped trying to approach my dad in prayer and started trying to approach Abba in prayer that I finally saw Him as He really was. He isn't limited by my crazy personality; He created it. I can tell Him anything; after all, He already knows it all. He never grows bored or frustrated with my problems, He has limitless patience, His mercy endures forever, and He does not grow tired or weary. I had to come to the point where I said, "God, (dad…?) this feels awkward and I've never seen you in this way, but I want to know you as my Dad. In a way that I've never experienced before." And He was faithful. My relationship with my Abba now is unfettered. There truly is nothing holding me back from Him. I have learned to approach Him without barriers, without posturing, and without premonitions. Like a little child sits on his/her dad's lap and leans back against his chest, I've finally begun to learn to rest in His presence and be with Him. Not because I have to. Not because He forced me to. Because I want to. And I have so much more peace and satisfaction and joy and contentment in my life now than ever before.
And the great thing is, you can finally love your (earthly) dad for who he is instead of wanting him to be something he is not. I love my dad more than ever before; I'm no longer expecting him to be like me, because Abba is making me like Him. He (God) relates to me in ways that no one else ever will, because He knows me in a way that no one else ever will.
So whether your father missed the mark or he was amazing like my dad, let Abba Father redefine for you what fatherhood really is. In the end, He is your greatest treasure and your highest reward. There is no greater achievement as a Child of God than when you get to the point that you truly desire Him above everything else. You are treasured, loved, and cherished. This is your true and most noble identity: to be the object of His affection, to be the prize that Christ has won for Him.
Galatians 4:4-7 — "But when the fullness of the time had come, God sent forth His Son, born of a woman, born under the law, to redeem those who were under the law, that we might receive the adoption as sons. And because you are sons, God has sent forth the Spirit of His Son into your hearts, crying out, "Abba, Father!" Therefore you are no longer a slave but a son, and if a son, then an heir of God through Christ."